Monday, February 24, 2020
Note: This event has been cancelled.
Immaculate Conception Seminary School of Theology is pleased to sponsor the 10th Annual Irish Language Mass and Dinner at Seton Hall University. The event is co-sponsored by Seton Hall's Catholic Studies Program, the College of Communication and the Arts, and the New Jersey Catholic Historical Commission, in collaboration with friends of Pirates of Irish Persuasion & Extraction (PIPE).
Mass will be celebrated by Rev. Dan Cahill in the Chapel of the Immaculate Conception on Seton Hall's South Orange campus at 6:00 p.m. on Friday, April 24. Parts of the Mass will be spoken in Irish, other parts will be in English. Those attending Mass are encouraged to arrive at 5:45 p.m. for a short lesson on the Irish Mass responses. The musical selections for the Mass will include Irish-inspired hymns. All are welcome!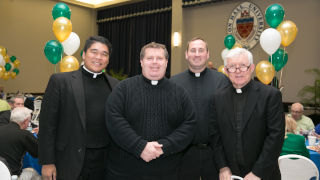 Following the Mass will be a festive dinner at 7:00 p.m. in the Main Lounge of the Bishop Dougherty University Center. The menu will feature Irish entrees from Town Hall Deli and Town Hall's legendary Sloppy Joes, desserts, soft drinks, coffee, and tea.
Back by popular demand, members of St. Columcille United Gaelic Pipe Band, 2018 All-Ireland Champions, will entertain dinner attendees with their award-winning renditions of favorite pipe and drum tunes. All attendees at the dinner will be entered to win fabulous door prizes generously donated by area businesses. Monetary donations will be accepted for St. John's Soup Kitchen in Newark at the dinner.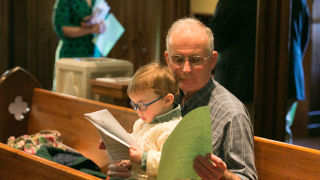 "This year is a milestone for the Irish Language Mass and Dinner," said Eilish R. Harrington, coordinator of the event. "There is a great deal of enthusiasm on campus for celebrations of both the Catholic faith and Irish culture. The support that the Irish Language Mass and Dinner provides to St. John's Soup Kitchen in Newark adds even greater impetus to this event. Immaculate Conception Seminary School of Theology's dedication to providing formation and spiritual enrichment to seminarians, clergy, religious, and laity, as well as to promoting the charitable mission of the Church, makes it a most fitting sponsor for this gala event's 10th annual iteration!"
Join members of the Seton Hall community for this evening of celebration of Irish heritage and Catholic faith!
Tickets for the dinner are $15 per adult and $10 per child age 12 and under. Tickets for the dinner must be pre-purchased no later than Friday, April 17.
Visit the event's registration page to order your tickets for the dinner »
Categories: Arts and Culture , Campus Life