Registration is Open for Spring 2022 Online Teaching Certificates
Friday, December 17th, 2021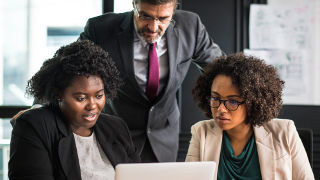 The TLT Center is pleased to announce two levels of the Online Teaching Certificate this semester for faculty to earn a certificate in Online Teaching. Renee Cicchino, Director of Instructional Design and Training, said "We have been thrilled with the response from the faculty members who have attended our Online Teaching workshops and earned their certificate."
The Online Teaching Certificate program provides faculty with tools and strategies to develop and facilitate online and hybrid classes. The Level 1 program consists of five workshops covering the following topics: competencies in online teaching, Quality Matters and course design, engagement strategies, accessibility, and grading and assessment. Faculty who attends the series and complete the assignments are eligible to receive an Online Teaching Certificate. Level 1 workshops will take place on: 1/27, 2/3, 2/10, 2/17, 2/24.
The all-new level 2 of the Online Teaching Certificate Workshop Series is designed to bring your skills in online teaching and learning to the next level. In the level 2 workshop, faculty will deepen their understanding of essential topics from level 1 by diving into real-world courses and analyzing the application of key concepts and skills. This is an active workshop—beyond examining exemplars, the cohort will come together to discuss each participant's individual teaching context and explore methods for maximizing learning outcomes. The goal is for faculty to leave with a working prototype that they can implement directly in their teaching practice. Level 2 workshops will take place on: 3/24, 3/31, 4/7, 4/21, 4/28.
Register for level 1 or level 2 workshops
Note: Faculty will be asked to bring samples from a previous or upcoming semester to analyze and modify during lab time. Each workshop is 90-minutes. You must attend all five required workshops and complete all objectives to receive your certificate.
You may attend the session in person in Space 154, located on the main floor of the Walsh Library, or by accessing the Microsoft Teams meeting from your calendar. Invitations will be sent out no later than 24 hours prior to the event start time. Before attending the event, it is highly recommended to run all available updates on your laptop.

Categories: Science and Technology