New Version of Foxit PDF Editor Available
Thursday, November 11th, 2021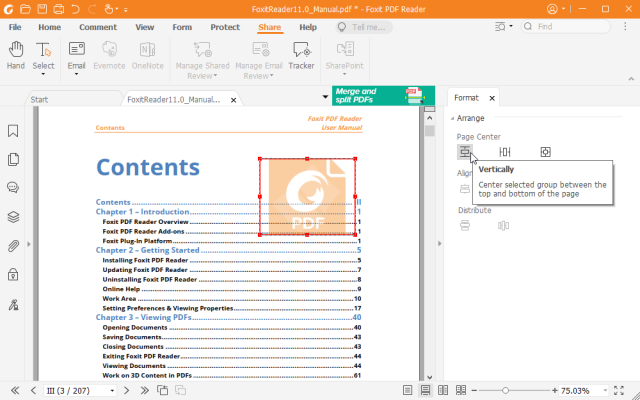 Beginning November 18th, all Seton Hall issued laptops will receive an update to Foxit PhantomPDF. The software has been renamed from Foxit PhantomPDF to Foxit PDF Editor. The newly renamed tool features a revamped user interface that is leaner, simpler, and more intuitive to use. It also gains support for more 3D functions and digital signature enhancements.
A hybrid training session will be held on November 30th at 9am in Space154 as well as Microsoft Teams. Participants will learn how to convert common file types to PDF and vice-versa, create and apply a digital signature, add document tags, and optimize document accessibility.
Aside from simplifying the product name, Foxit PDF Editor gains a redesigned user interface: a minimalist-looking ribbon with pared-back icons and panels, and a clearer arrangement of tools.
The ribbon has been restructured -- the Arrange and Format tabs replaced by a single Format tab that appears in the right-hand pane when users make comments. A Share option has also been added to the File page.
Digital signatures now support EUTL (European Union Trusted Lists) for convenient validation, plus add an option to customize the default icon shown on digital signature appearances. There's also better integration with ECM, additional text patterns such as IBAN and countries in the Search panel, and accessibility adjustments to the login UI for those with DocuSign accounts. The 3D measurement tool has also been improved, with support for radius measurement and snap-to options to help provide more precise measurements. A full list of changes is available on the Foxit website.
Foxit PDF Editor 11 will be automatically downloaded and installed on all university-issued machines beginning November 18. Foxit PDF is only available to university-issued computers that are actively connected to the SHU.edu domain. Users do not have to be on campus to install or use Foxit PDF. Personal devices, mobile devices, non-SHU machines or devices not attached to the SHU.edu domain will not be able to use/connect to this program.

Categories: Science and Technology