Migrating Office Phones to Microsoft Teams
Thursday, October 7th, 2021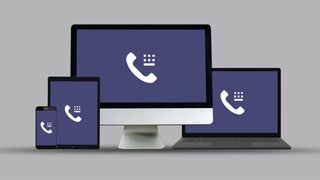 After successfully utilizing Microsoft Teams for the last eighteen months, the Department of Information Technology is in the process of replacing the existing aging office phones with a Microsoft Teams calling system. The shift to Teams-based calling will allow employees to make and receive calls, check voicemail, transfer and hold calls, and more from their Seton Hall laptop, a smartphone, or a replacement desk phone.
Preparations for our campus implementation of Teams calling have been going on behind the scenes for some time, and staff have been testing Teams to ensure its readiness for campus-wide deployment. The division of Student Services successfully kicked off the migration this July and the Department of Information Technology will be conducting interviews and surveys with other departments in the coming months, for a targeted completion date of June 30, 2022.
All existing office lines will be transferred to Microsoft Teams allowing you to make and receive phone calls from the Teams app on your computer or smartphone, without the need for a traditional desk phone. This means that you can make a phone call from your computer, smartphone or tablet and it will appear as your Seton Hall office number to the person you are calling. Similar to the existing phone system, unanswered calls can forward to another number or go to voicemail.
Employees that prefer to use Teams on their smartphone may continue to place and receive phone calls from their smartphone, even if they are not in their office. For those looking to disconnect, a quiet hours and days feature is available to avoid notifications during specified hours of the day, for an entire day or weekend.
In addition to making and receiving calls via the Teams app, some employees will also receive a new Teams office phone. Teams phones are easy-to-use, feature rich products, providing a Teams experience in addition to the functionality expected from an office phone. Each phone is packed with advanced features to deliver crystal-clear voice quality, calendar synchronization and one-click to join functionality for seamless integration with any Microsoft Teams meeting.
Departments will receive direct communication ahead of their respective migration, complete with how-to guides and videos. To learn more about Teams calling, preview the video and guide. An intro video and guide are also available for the new Teams office phones.
Categories: Science and Technology