Introducing Adobe Creative Skills Series Digital Badges
Thursday, December 8th, 2022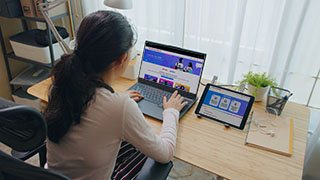 In partnership with Adobe, the Teaching, Learning and Technology Center is pleased to announce the launch of the Adobe Creative Skills Series, a digital badging program designed to showcase verified credentials earned outside of the classroom. As one of only 12 universities selected to participate in this valuable pilot program, Seton Hall students have the unique opportunity to gain a competitive edge in the job market. In recent years, employers have shifted their hiring practices to focus more on the skills a job requires and that a candidate possesses. With skill-based hiring on the rise, digital badges help job seekers to make their transferrable and marketable skills more visible.
"Seton Hall University's exciting partnership with Adobe will help prepare our students to excel in the job market after graduation by providing them with practical skills in high demand, and micro-credentials widely sought after by industry leaders," said Jorge E. Rivera, director of the Career Center. "In today's competitive job markets, employers continue to seek candidates who are not only creative, but who can also utilize their technological skills to solve problems across different fields. "
Regardless of field or industry, digital and creative communication consistently rank among the most important competencies that employers value when hiring. In response, Adobe has curated three self-paced, bite-sized courses created to teach the most in-demand skills needed to succeed in today's workforce. Course options include:
Create Stunning Presentations: Learn to create and deliver professional slides that will wow audiences through storytelling, visual design, and presentation skills.
Create Compelling Application Materials: Ready to land that dream job? Refresh your résumé and LinkedIn profile using insights from today's market.
Create Viral Social Media: Grow your social following and create thumb-stopping content for Instagram, TikTok, and more.
These interactive courses are self-paced and can be completed all at once or a little at a time. Each course consists of approximately two hours of lessons and accompanying activities, which are broken into modules lasting from five to 15 minutes. Enrolled students will have access to free templates and personalized feedback from industry experts. Course completers will receive an official badge from Adobe to share with their network via their email signature, LinkedIn profile, digital portfolio, website, and social media accounts. Additionally, each badge is digitally coded with verified and shareable information about the awarding body, receiver, criteria for issuing, issue date, expiration date, and evidence of the earned credential.
Seton Hall University is committed to helping students achieve their personal, professional, and educational goals. As such, the Adobe Creative Skills Series is free and accessible to all students. To enroll, students with existing SHU Adobe accounts can log into the Adobe Creative Skills Series dashboard using their PirateNet login credentials. For new SHU Adobe users, access can be requested online and is typically granted within 24-48 hours.
Visit the Teaching, Learning and Technology Center website to learn more about the Adobe Creative Skills Series as well as the many Adobe resources available to the Seton Hall community.
Categories: Science and Technology