OIP AND CAPS Announce the Launch of the International Student Support Group
Thursday, February 16th, 2023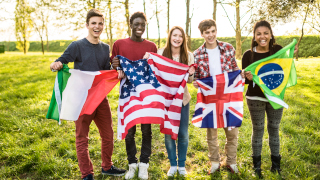 The Counseling and Psychological Services (CAPS) and the Office of International Programs (OIP) have launched the International Student Support Group (ISSG).
The goal of the ISSG is to create a welcoming environment for new and continuing international students where they can connect with peers and discuss some of the obstacles that come with studying in a foreign country. Walk-ins are welcome and interested students should be advised that there are no requirements to participate in the meetings.
Simone Robinson, a current international student in the Ph.D. in Counseling Psychology program, identified a support group as a viable channel to help international students support each other. With an interest in spreading more awareness about mental health, Robinson commented, "The overall objective for this group is to provide international students with a space to just be!" She explained, "As an international student myself, I am knowledgeable about our experiences including but not limited to homesickness, lack of social and emotional support and decreased mental health."
Robinson then sought out support from CAPS and OIP to get the group running.
Chenelle Lauture, Mental Health Clinician for CAPS, says "Our goal is to create a space where students can share their experiences, get support, resources, have fun and just connect. Our hope is that students will feel welcomed, supported, more connected to the SHU community and each other."
Maria Bouzas, Director of OIP, says "I am thrilled that OIP is partnering with CAPS to provide a space where international students can talk through all the special challenges they face and encourage each other by sharing their experiences. Over the years, I have witnessed how stressful it can be for international students to manage visa regulations, financial difficulties, homesickness and more, all while trying to stay on top of their academics."
At the present time, international students represent over 65 countries including Saudi Arabia, Sweden, India, Ecuador, Algeria, Ghana, Zambia, Burkina Faso, Turkey, Liberia, Jordan, Sri Lanka, Nigeria, Kenya, Bangladesh, Yemen, to name a few.
The support group series began on Thursday, February 9, 2023, and will take place every Thursday from 4 to 5 p.m. (EST) in the newly renovated Multicultural Room located in the Global Commons area (1st Floor of Jubilee Hall - Room 134).
Categories: Office of International Programs