Seton Hall's Esports Program Joins the National Association of Collegiate Esports
Thursday, September 14th, 2023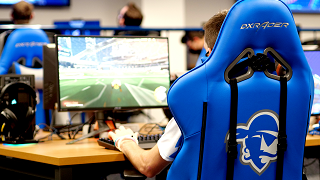 Seton Hall proudly announces its official membership to the National Association of Collegiate Esports (NACE), demonstrating the University's unwavering commitment to fostering the growth of esports and providing its students with unparalleled opportunities in the world of competitive gaming. NACE, the governing body for collegiate esports, has been at the forefront of promoting and supporting competitive gaming within higher education institutions across the United States. By joining NACE, Seton Hall University is poised to take its esports program to new heights, offering students an enhanced platform to showcase their skills, develop their talents, and compete at the highest level.
"Seton Hall University is thrilled to become a member of the National Association of Collegiate Esports," said Victor Gomez, Esports Manager. "As the popularity and influence of esports continue to rise, we are committed to providing our students with the best possible environment to pursue their passion for gaming while emphasizing academic excellence, sportsmanship, and personal growth."
Beginning in Spring 2024 season, six BIG EAST schools will go head to head in two leading esports titles ahead of a live conference championship. NACE Starleague will host teams from Butler University, Villanova University, Creighton University, DePaul University, St. John's University, and Seton Hall University to compete in both Rocket League and League of Legends conference-based play. All BIG EAST Rocket League matchups, and select League of Legends matches, are set to stream live via the NACE Starleague Twitch channel.

With the further integration of esports into the campus culture, Seton Hall University aims to bolster student engagement, foster a sense of community, and promote leadership development among its student body. The institution envisions its esports program as a dynamic platform that encourages collaboration, strategic thinking, and personal growth, aligning with the university's core mission of shaping well-rounded and future-ready graduates.
Seton Hall University has kicked off its Fall 2023 season in the new league. We encourage the Seton Hall community and esports enthusiasts alike to rally behind our talented players. View the Fall 2023 Rocket League schedule.
The League of Legends and SSBU schedules will be available in early October.
---
About Seton Hall Esports
Seton Hall University Esports has built a reputation for fostering a competitive, inclusive, and supportive gaming environment that emphasizes sportsmanship, teamwork, and personal growth. Successful candidates will not only gain the chance to represent Seton Hall University on a national stage but also join a thriving community of like-minded gamers.
A leader in the field, Seton Hall has had an esports club team since 2013. Among the first University gaming organizations in the state of New Jersey to be recognized, the team has been asked by a number of gaming organizations to provide insight into the future of collegiate gaming. The Seton Hall Esports Program has played a pivotal role in shaping league-sanctioned collegiate play. In November 2019, the University completed construction on a state-of-the-art computer lab and esports facility with dedicated and optimized computers for students' recreational and competitive use. Seton Hall's League of Legends are 2x BIG EAST Champions. The University's Rocket League team has consistently ranked in the top 32 in North America for six consecutive seasons, claiming the BIG EAST Championship in 2022 and 2023, as well as the Season 3 Electronic Gaming Federation's National Championship. Visit www.shu.edu/esports for more information.
About The BIG EAST Conference
The BIG EAST Conference is an association of 11 nationally prominent colleges and universities that foster healthy athletic competition, community service and the pursuit of excellence in academic environments. The BIG EAST-sponsored athletic programs of our institutions provide national-caliber participation opportunities for more than 3,800 student-athletes on over 200 men's and women's teams in 22 sports. Established in 1979 and headquartered in New York City, the BIG EAST's members are located in eight of the country's top 36 largest media markets and include Butler University, University of Connecticut, Creighton University, DePaul University, Georgetown University, Marquette University, Providence College, St. John's University, Seton Hall University, Villanova University and Xavier University. For more information, visit www.bigeast.com.
About Playfly Esports (Operators of NACE Starleague)
Playfly Esports is helping to reshape how entertainment is consumed by younger generations with new methodologies for advertisers that connect their brands with all gaming fans. We deliver scalable, media solutions that can directly place sponsors into the spotlight of the fastest-growing industry on the market, while monetizing custom built events capable of adapting to the consistently, all consuming streaming-based content sector of digital entertainment. Following the success of the college league, NACE Starleague, Playfly Esports has turned its focus towards new business lines around the high school, amateur, and professional esports categories.
Categories: Science and Technology