The Center for Catholic Studies Celebrates 25 Years at Seton Hall
Friday, December 2nd, 2022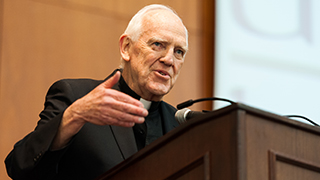 Msgr. Richard Liddy, Founder of the Center for Catholic Studies.
The Center for Catholic Studies is celebrating its 25th anniversary at Seton Hall University. To mark this milestone, there will be a cocktail reception in Bethany Hall on Wednesday, December 14 at 6 p.m.
Since 1997, the Center for Catholic Studies has sought to live, share, and deepen Catholic Identity at Seton Hall. One of the first of its kind in the United States, the Center was created to foster ongoing dialogue between the Catholic intellectual tradition and all areas of study and contemporary culture.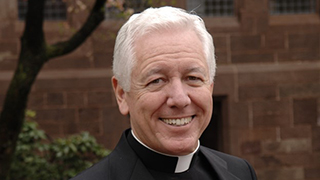 Msgr. Robert Sheeran, President of Seton Hall 1995-2010.
While President of Seton Hall, Monsignor Robert Sheeran worked to enhance the school's Catholic Identity and find innovative ways to live its mission. In 1996 he appointed Monsignor Richard Liddy as University Professor for Catholic Thought and Culture. Msgr. Liddy recognized the need to create a culture of dialogue steeped in the Catholic Intellectual, Spiritual, and Moral Tradition. Following the model of St. Thomas University in Minnesota, Msgr. Liddy work with Msgr. Sheeran to found the Center for Catholic Studies.
In an effort to reach the entire university community, the Center began offering interdisciplinary faculty development seminars on mission, which continue today. In collaboration with faculty from across the university the Center pioneered programs, workshops, retreats, and events engaging matters of faith and reason and their relationship to the academic disciplines and professions.
In short order, the Center established what is now theCatholic Studies Program. First, with a Catholic Studies minor (1998) and a Catholic Studies major (2003). Now under the direction of Dr. Ines Murzaku, the Catholic Studies academic program will celebrate its 25th anniversary next year. Then as now, the Center continues to support the academic major and minor as well as extracurricular opportunities for students to experience the rich history and global diversity of Catholicism abroad. Unique and transformative study abroad opportunities have been a key component of Catholic Studies for over two decades.
The Center established the Toth Lonergan Endowed Chair, which brings a Catholic professor to campus each year to engage with students, faculty, and staff in Catholic mission and identity. The Chair is named for Deacon William Toth and Fr. Bernard Lonergan, S.J., and continues their work of engaging Catholic thought across all disciplines.
The Center is home to three institutes and two scholarly journals with national and international reach.
Please join us on December 14th for our 25th Anniversary and to celebrate the good work of Msgr. Liddy, Msgr. Sheeran and their many collaborators. The celebration will include live music, an open bar, hearty hors d'oeuvres, and a few stories honoring Monsignor Richard Liddy and Monsignor Robert Sheeran. Together we will look forward to the next 25 years of Catholic Studies and the exciting initiatives underway to better serve Seton Hall students, faculty, and staff as well as the local Church and the Catholic Studies movement across the United States and beyond.
The entire Seton Hall community is welcome but an RSVP is required. For more information and to RSVP, visit the event page and register before Wednesday, December 7.
Categories: Faith and Service