Journey into Interiority
Wednesday, November 30th, 2022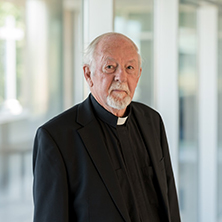 Photo of Fr. Brian Cronin
On Thursday, December 8, 2022, the Center for Catholic Studies will hold its annual Fall Lonergan Lecture, "Journey into Interiority" at 6:00 p.m. in the main campus chapel featuring Fr. Brian Cronin, C.S.Sp. as the fourth Toth Lonergan Visiting Professor of Interdisciplinary Studies.
This year's annual Toth-Lonergan Endowed Chair Lecture explores how we live in three worlds, that of common sense, of theory, and of interiority. Fr. Brian Cronin will address difficult questions such as, how do we arrive at interiority, what are its advantages and disadvantages? How do we live and communicate with people who do not know what we are talking about? How do we promote this third stage of meaning, for our science, our culture and our transcendence.
Fr. Brian is a seasoned scholar who brings a wealth of professional and pastoral experience to his role. A native son of Dublin, after his ordination he served as a missionary in Kenya for eight years before spending the next twenty teaching at the Spiritan Missionary Seminary in Tanzania. He later joined the philosophy faculty at Duquesne University where he served until 2020. He holds a Ph.D. in Philosophy from Boston College as well as a License in Sacred Theology (S.T.L.) from the Gregorian University in Rome.
Fr. Brian is the author of numerous scholarly articles as well as four books: Foundations of Philosophy: Lonergan's Cognitional Theory and Epistemology (2005), Value Ethics: A Lonergan Perspective (2006), Phenomenology of Human Understanding (2017), and a forthcoming work, A Worldview of Everything: A Contemporary First Philosophy (Wipf and Stock, 2022).
- All Seton Hall University students, faculty and staff are welcome to attend.
- For more information and to register for the event, please visit the University Calendar listing.
Categories: Faith and Service