Follow the Science with G. K. Chesterton and Fr. Stanley L. Jaki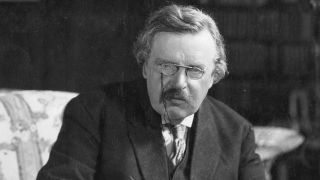 South Orange, March 3, 2022 – The G. K. Chesterton Institute for Faith & Culture at Seton Hall University and Inside the Vatican, are pleased to announce an online conference on the theme of "Follow the Science with G. K. Chesterton and Father Stanley L. Jaki." A conversation with Dr. Robert Moynihan, Founder and Editor of Inside the Vatican, Dr. Geir Hasnes, Chesterton's Bibliographer and Editor of Chesterton in Black and White, and Dr. Dermot Quinn, professor of history and editor of The Chesterton Review. Moderated by Mrs. Gloria Garafulich-Grabois, Director, G. K. Chesterton Institute for Faith & Culture. The event will be streamed online via ZOOM. Event is free, registration is required
Conference Date: Thursday, March 31st From 1:30 p.m. to 3:30 p.m. (ET)
About the Event
We live in an age of science. So many of our achievements in healthcare, energy, communication, and industry, may be traced to the brilliant work of men and women in laboratories. But so many of our problems, too, seem to have a scientific root. We are slaves to our gadgets. We have phones that seem smarter than us. We can prolong life at its end but destroy it at its beginning. We can blow up the world. Everywhere, we are told, the answer to our problems is to "follow the science"—even if those problems were caused by science in the first place. All of the achievements of science—even which few of us would wish to relinquish---have come at a cost.
This online conversation will look at two men who thought about science in powerful and penetrating ways. The English writer G.K. Chesterton, although not a scientist, had important things to say about the natural world and natural theology. In fact, according to Father Stanley Jaki, he was a "seer of science," a man with deeper insight into the nature of scientific knowledge than many scientists themselves. Father Jaki, himself a brilliant physicist and philosopher, was also an important and insightful thinker about science, religion, and the modern world. The author of over forty books and winner of the Templeton Prize for Religion in 1987, he was among the best-known priest-scientists of the twentieth century. The conference will consist of a set of reflections on the scientific thought of both men followed by conversation and questions and answers.
About the Speakers
Dr. Robert Moynihan, Ph.D., (Medieval Studies, Yale University, 1988) is founder and editor-in-chief of Inside the Vatican magazine, now in its thirtieth year of publication. He has appeared as a Vatican analyst on many major networks and is author of several books. His 2005 book, The Spiritual Vision of Pope Benedict XVI: Let God's Light Shine Forth, was based on more than twenty-five interviews with Cardinal Ratzinger, the future Pope Benedict, over many years. His other books include Pray for Me: The Life and Spiritual Vision of Pope Francis in 2013 and Finding Viganò: In Search of the Man Whose Testimony Shook the Church and the World in 2020. His "Moynihan Letters," with timely news and commentary, arrive in the inboxes of more than 100,000 email readers.
Dermot Quinn, D.Phil. is Professor of History at Seton Hall University and Editor of The Chesterton Review. He was educated at Trinity College, Dublin and New College, Oxford, where he was awarded a doctorate in 1986. He has written extensively on Chestertonian themes, has authored three books The Irish in New Jersey: Four Centuries of American Life (Rutgers University Press, 2004)(winner, New Jersey Studies Academic Alliance, Non-fiction Book of the Year, 2005); Patronage and Piety: The Politics of English Roman Catholicism, 1850-1900 (Stanford University Press/Macmillan, 1993) and Understanding Northern Ireland (Baseline Books, Manchester, UK, 1993) and many articles and reviews in the field of British and Irish history.
Geir Hasnes is Assistant professor of Engineering Cybernetics at the Norwegian University of Science and Technology. Mr. Hasnes has been working on a comprehensive bibliography of G. K. Chesterton for which he was awarded the American Chesterton Society's Chesterton Lifetime Achievement Award in 2006. He lives in Kongsberg, Norway.
About the Sponsors
The G. K. Chesterton Institute for Faith & Culture is located at Seton Hall University, South Orange, N.J. Founded in 1974 by Father Ian Boyd, C. S. B., its purpose is to promote the thought of G. K. Chesterton and his circle and more broadly, to explore the application of Chestertonian ideas in the contemporary world. The Institute's work consists of conferences, lecture series, research, and writing. The Chesterton Review, founded in 1974, has been widely praised both for its scholarship and for the quality of its writing. The journal was founded by Father Ian Boyd, C. S. B., and is edited by Dr. Dermot Quinn, includes a wide range of articles not only on Chesterton himself, but on the issues close to his heart in the work of other writers and in the modern world. It has devoted special issues to C. S. Lewis, George Bernanos, Hilaire Belloc, Maurice Baring, Christopher Dawson, Cardinal Manning, the Modernist Crisis, J. R. R. Tolkien, Fantasy Literature, a Special Polish Issue, as well as recent special Croatian, Charles Dickens and Stanley L. Jaki issues. For information about the Institute or The Chesterton Review please contact [email protected] or visit the website.
Inside the Vatican
Published six times a year, Inside the Vatican magazine provides comprehensive, independent reporting and thoughtful guest commentary on the "heart of the Church"—the Vatican. ITV's international readership, predominantly Catholic, includes thousands of priests, religious leaders and lay people in eighty countries, and even non-Catholics and heads of state who are interested in our insightful analysis of events in the Catholic world. Our editor-in-chief, Dr. Robert Moynihan, is a veteran Vaticanist who founded the magazine nearly 30 years ago.
Categories: Faith and Service