Dean Joyce Strawser and Director Susan Scherreik on the Success of the Entrepreneurship Program
Thursday, October 24th, 2019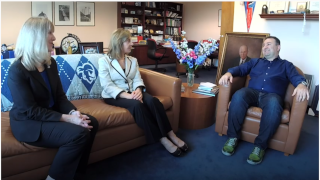 Joyce Strawser, dean of the Stillman School of Business, and Susan Scherreik, director of the Center for Entrepreneurial Studies, discuss the success of the University's entrepreneurship program on Spot On video podcast with Abe Kasbo '94/M.P.A. '99, founder and CEO of Verasoni Worldwide.
Highlights:
The program's focus on concepts into business practice
Expansion of courses and boot camp opportunities for students
Involvement of alumni entrepreneurs, including on the Center's Advisory Board
The growing popularity of both H.S. Pirates Pitch and Collegiate Pirates Pitch
Watch the Video Podcast here »
About the Center for Entrepreneurial Studies
The Center for Entrepreneurial Studies was created in 2003 to raise student awareness of self-employment as a career option. The Center fosters the collaboration of faculty, students, alumni and entrepreneurs to engage in activities and projects that advance hands-on entrepreneurial learning at the Stillman School. The Center is integral to the Stillman School's mandate to prepare students for careers in the 21st century by acknowledging the growing importance of entrepreneurship in the U.S. and global economy. With its strong focus on academic excellence, the Center promotes professionalism and integrity in the entrepreneurial arena.