Stillman School of Business Launches Innovative Destination and Event Management Certificate Program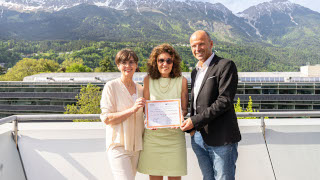 Associate Dean of International Relations at MCI Susanne Lichtmannegger, Seton Hall Professor and Dean Emerita Karen Boroff, and Head of the Tourism Business Department at MCI Hubert Siller at the signing ceremony for the Destination and Event Management agreement in Innsbruck, Austia. (Photocredit ©MCI / Janine Kiechl)
The Stillman School of Business is proud to announce the launch of its highly anticipated Destination and Event Management Certificate Program. This program aims to equip students with valuable expertise in destination management and event management in global markets, offering them a competitive edge in the dynamic field of tourism and hospitality.
Partnering with the renowned Management Center Innsbruck (MCI) in Innsbruck, Austria, the Stillman School of Business has developed an international collaboration that provides an exceptional opportunity for students to gain a global perspective while earning their academic credential. This semester-long program offers a comprehensive curriculum that combines theoretical knowledge with practical experiences, empowering students to excel in the increasingly competitive tourism industry.
Seton Hall Professor and Dean Emerita Karen Boroff, Ph.D. journeyed to Austria for the signing ceremony for the Destination and Event Management agreement. In attendance were Susanne Lichtmannegger, associate dean of international relations at MCI, and Hubert Siller, head of the Tourism Business Department at MCI. Of note, students from this department at MCI have earned first place prizes in the science of tourism by the German Society for Tourism Science eV (DGT), whose mission is the promotion of tourism science in Germany, Austria, and Switzerland. "These awards have been earned consecutively since 2012, a testament to the high quality of the educational experience in tourism that Seton Hall students will appreciate," said Boroff.
Joyce Strawser, dean of the Stillman School of Business, expressed enthusiasm about the new certificate program, stating, "We are thrilled to launch the Destination and Event Management Certificate Program, which is designed to address the growing demand for professionals with expertise in managing destinations and events in global markets." She added, "Like the Stillman School, MCI is also accredited by the AACSB, the premier organization that accredits business schools worldwide. By partnering with MCI, a leading institution in the field, we can provide our students with a truly international educational experience."
Through this collaborative effort, students will have the opportunity to complete courses both at the Stillman School and MCI. This interdisciplinary approach allows students to customize their learning journey, selecting courses that align with their individual interests and career aspirations. By earning this certificate, students will not only enhance their academic qualifications but also gain a competitive advantage in the job market.
The program is designed to provide students with a comprehensive understanding of destination management and event management in global contexts. "Through a combination of classroom instruction, practical experiences and cultural immersion, we aim to cultivate well-rounded professionals who are equipped to tackle the complex challenges of the industry," said Boroff.
She added, "Through strategic collaborations with esteemed institutions, we have the privilege of expanding the horizons of our offerings beyond our own budgetary constraints. These collaborations enable us to provide exceptional opportunities that align with our mission of delivering comprehensive and cutting-edge education. The joint delivery of this certificate by both institutions is a testament to the distinctive value we bring to our undergraduate business programs, setting us apart from others in the field. By leveraging our combined competencies and resources, we proudly present a truly unique and valuable addition to the esteemed Stillman degree."
Assistant Provost and Dean of Continuing and Professional Education Mary Kate Naatus, Ph.D., who also oversees international programming and partnerships, reflected, "The University's strategic plan calls for more international outreach and this certificate program squares perfectly with our aim. We also know that collaborations with other universities advance the educational experiences of all students, giving them academic experiences that a single university could not offer on its own."
Hector Lozada, associate professor and director of the Institute for International Business at the Stillman School, added, "The importance of developing our students' international cultural intelligence is critical for tomorrow's business professional."
Seton Hall has previously offered study abroad opportunities to Innsbruck for blended classes in Organizational Behavior.
MCI is a privately organized school which combines science and business into one unique concept. International lecturers and experts, a worldwide network and numerous services offer students an unforgettable study experience with excellent career prospects. With more than 300 selected partner universities around the world, distinguished double degree programs, prestigious international accreditations and top placements in several surveys and rankings, MCI enjoys an excellent reputation worldwide.
Innsbruck, Austria, the host city of the 1964 and 1976 Winter Olympics, serves as an ideal location for this program. With its rich history, vibrant tourism industry, and welcoming English-friendly environment, Innsbruck offers students an immersive learning experience in a picturesque setting.
Lozada emphasized the advantages of the program's location, stating, "Innsbruck provides a unique opportunity for our students to engage with an international community, form connections, and expand their global network. The city's central location in Europe also allows for easy exploration of other European destinations, further enriching their cultural experiences."
The Destination and Event Management Certificate Program at the Stillman School of Business is now accepting applications for the Spring 2024 semester. Interested students are encouraged to visit the program website or contact Drs. Lozada and Boroff for more information.
Categories: Business