Seton Hall University's Top Student Entrepreneurs Vie For $16K at the Pirates Pitch 2023 Startup Competition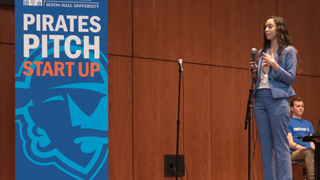 Do you dream of one day being an entrepreneur? Do you watch Shark Tank and wonder how contestants turn ideas into thriving ventures? Well, do we have an event for you! On Wednesday evening, April 12, Seton Hall University's top student entrepreneurs will pitch their innovative startup concepts to a panel of distinguished judges as they compete for $16,000 in seed funding awards and professional services.
Students, faculty, alumni, parents, and members of the community are invited to an amazing night of innovative ideas at the 13th annual Pirates Pitch Startup Competition. The in-person event, which will take place from 6:30 to 9:00 p.m. in University Center Theatre, will showcase startup businesses being developed by the six finalist teams that have advanced to the championship round.
Attendees will have an opportunity to select their favorite finalist team and vote for the $500 Audience Choice Award. Provost Katia Passerini andStillman School of Business Dean Joyce Strawser will provide opening remarks to kick off the competition. Members of the Entrepreneurship Club will serve as emcees.
The event is the centerpiece of the Center of Innovation and Entrepreneurship's entrepreneurship education program. "The goal of Pirates Pitch is to cultivate the ambitious drive of student entrepreneurs and provide an opportunity for them to make their dreams a reality," said Susan Scherreik, Director of the Center of Innovation and Entrepreneurship. "This year is truly exciting because Pirates Pitch will be held in-person for the first time since 2020. Seton Hall University students are launching businesses as never before and this year's contest will showcase both operating startups and business models still in development. For anyone seeking to learn how they can one day be their own boss, this event is not to be missed."
Successful alumni entrepreneurs will serve as judges at the contest. They are: Bryan Jakovcic '09, president and owner of Fusion Health; Tim Aumueller M.B.A,'08, co-founder & chief revenue officer at Avidon Health; Shannon D.M. Morris ,'92/M.A. '94, managing partner, Tent Collective, and founder, The Whistle Company; and Carina Castagna '21/M.P.A. '22, founder & CEO, Pesto Joe.
The judges will be looking for creative and innovative thinking about new markets, products and services. Also important, the teams will be judged on their perceived ability to execute their concepts and turn them into viable and sustainable businesses. Student businesses can be either for-profit enterprises, or non-profit ventures that tackle societal and community problems.
The student teams will be judged on their pitches at the event, as well as be evaluated on business plans they will create and share with judges in advance of the finalist round of the competition. Using these criteria, the judges will select first, second, and third place winners. These student teams will be awarded the following prizes:
First Place Prize: $8,000
Second Place Prize: $4,500
Third Place Prize: $3,000
Audience Choice Award: $500
In addition, finalists will receive pro bono legal advice from Santomassimo Davis LLP /Outside General Counsel Solutions, the competition's legal sponsor. Further, finalists have the opportunity to participate in the Pirates LaunchPad summer accelerator program, which offers advanced student entrepreneurs an additional $2,000 in seed funding as they continue to develop their business models assisted by faculty and alumni mentors.
The student finalists are:
Ayanna Armour is a senior studying marketing and entrepreneurship. Ayanna launched Feelz Nostalgic, a vintage second-hand clothing, store two years ago. Through the online platform Depop, Feelz Nostalgic provides a curated selection of clothes from multiple eras and multiple aesthetics at affordable prices.
Jabez Choi is a senior studying marketing. His business, Embr AI, is a platform that automates digital marketing processes to help small businesses increase sales. Embr AI is transforming the digital marketing landscape with its cutting-edge artificial intelligence-powered platform.
Siddhant Kapoor and Cameron Tower are freshmen members of the Buccino Leadership program. Kapoor is majoring in finance and Tower is pursuing degrees in psychology, and entrepreneurship. Their business concept, Healio, is a chatbot that quickly connects students who are struggling with mental health with their guidance counselors.
Cameron Lloyd is a junior majoring in Finance. His business concept, APPRENTICESHIPMENT is an online platform that helps high school students secure apprenticeships in high-paying skilled fields in the manufacturing industry.
Brooke and Madison Loza are sophomores majoring in nursing and who are enrolled in the Buccino Leadership program. Their business, One Stop Eco Shop, is an online marketplace that aims to reduce waste. Consumers can purchase over 100 different sustainable and reusable home and body products.
Jason Santos is a junior studying economics and mathematical finance and a member of the Buccino Leadership Institute. He founded Pirates Closet, a nonprofit initiative that provides free professional attire to SHU students in need.
Categories: Business