Seton Hall Hosts Fourth Annual Big East Startup Challenge
Thursday, February 9th, 2023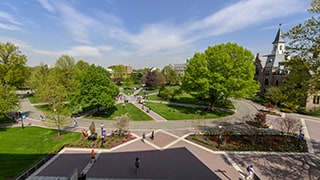 Seton Hall University will be the host of the fourth annual Big East Startup Challenge which will be held on February 16 from 6 - 8:30 p.m. ET. The virtual contest is sponsored by the Big East Conference
Seton Hall will be represented at the Big East Startup Challenge by Stillman students Siddhant Kapoor, a finance major, and Cameron Tower, who is pursuing a double concentration in entrepreneurship and psychology. Both are freshman and members of the Buccino Leadership Institute. Their startup idea is Healio, an AI-powered student mental health support system that would enable guidance counselors to quickly identify and connect with students at risk.

The event will be MC'd by Meghan Caffrey of the Big East Digital Network.
Seton Hall alumna Betty Manetta will deliver a keynote speech during the event. She is the president and CEO of Argent Associates, Inc. and Asociar, LLC and a past member of the Seton Hall University Board of Regents. She earned her master's degree in international business from the University, where she received the Beta Gama Sigma Award for contributing significantly to the vitality and strength of the economy, combining business achievement with service to humanity. Manetta is involved in numerous professional and community organizations, including serving as secretary of the U.S. Hispanic Chamber of Commerce and Tech Titans. She served on the President's Export Council (PEC), which advised President G.W. Bush on international trade matters and its impact on small, women and minority owned businesses. Manetta has received numerous awards from local, state, federal, corporate and nonprofit organizations for her leadership and commitment to community. Read her full bio here.
The judges of the event are seasoned entrepreneurs, innovators, venture capitalists and business leaders, and a few have ties to Big East institutions:
• Brandon Andrews, Entrepreneur and Co-Founder of Gauge
• Dawn Crouch, Managing Director at Deloitte Global
• Wes Day, Partner and Deal Management, TEALL Capital
• Scott Powell, Analyst, SeventySix Capital
• Kristy Wallace, Chief Executive Officer, Elevate Network
The top three winning teams will be invited to Mohegan Sun for the Women's Big East Basketball Championship game on March 6.
The public is invited to watch the students showcase their ideas to the BIG East community and the world. A YouTube link for the event will be sent to event registrants before the event begins. Those who wish to make use of Closed Captioning during the competition will be able to do so on YouTube.
Register here to watch the event virtually.
To join the conversation on social media, follow #BIGEASTstartupchallenge.