It's a Five-Peat! The Gerald P. Buccino '63 Center for Leadership Development Is Ranked #1 Nationally 5 Years in a Row
Thursday, March 7th, 2019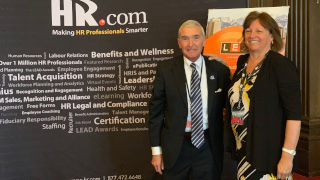 The Gerald P. Buccino '63 Center for Leadership Development in the Stillman School of Business earned, for the fifth year in a row, a #1 ranking in the LEAD Awards sponsored by HR.com. Specifically, the Center was named the #1 Certificate Program with Emphasis on Leadership/Organizational Development.
Known as the "Oscars of Leadership," the LEAD Awards recognize the world's top leadership practitioners and programs committed to developing leaders across the leadership, human resources and organizational development disciplines. Hundreds of organizations and programs apply for the awards each year, but only a select few make it into the Winner's Circle.
"This extraordinary and history-making accomplishment gives testimony to Seton Hall University's highest principles and values, and to the work of the many who have made this possible," said Buccino Leadership Center Director Michael Reuter. "Receipt of this award recognizes the power and impact of the University's culture of family and community, a never-ending oneness of mind, heart and spirit."
The Business Leadership Center is one of six interdisciplinary centers that comprise Seton Hall's Buccino Leadership Institute. Launched this past fall, the new Buccino Institute is the first interdisciplinary undergraduate leadership program of its kind in the nation. It is also named in honor of Seton Hall alumnus Gerald P. Buccino '63, founder of Buccino & Associates and a global visionary in the turnaround management profession.
With a guiding principle of "changing the world by changing how leadership is taught," students in the program learn leadership through an interdisciplinary lens. They are placed in interdisciplinary teams from day one – with nursing, business and communications students learning alongside of international relations, arts and sciences and education students.
The students are also exposed to training in peak performance psychology – the same as that provided to world-class Olympians and elite special forces – as well as professional leadership coaching. Every one of the Buccino Institute's students have been assigned a professional leadership coach. Unlike other elite universities that offer leadership coaches for students in M.B.A. and executive-M.B.A. programs, Seton Hall is believed to be the first university to offer leadership coaching strictly to competitively-selected undergraduate students.
In addition to these program-wide experiences, students in the Business Leadership Center also take leadership courses above and beyond their business course load, have experiential learning experiences with key business leaders and executives on the Center's Advisory Board, secure multiple internships, and have a 100% job placement rate among its graduates.
These valuable experiential opportunities and professional coaching have contributed to the Center being recognized as the top program of its kind in the nation for the past five years in a row.
"Michael Reuter, Professor Jack Shannon, who has been with the Center since the beginning, and the fantastic Stillman students in the Buccino Leadership Institute have made Seton Hall synonymous with national leadership excellence," said executive director Bryan Price. "When you consider that other schools in the competition have university endowments that are 4 to 10 times the amount of Seton Hall's, you have to really tip your cap to what they have been able to accomplish. It is nothing short of inspirational."
And, as stated by Center Director Reuter, "Our best is yet to come."
Learn more about The Gerald P. Buccino '63 Center for Leadership Development, the Buccino Leadership Institute and the top-ranked Stillman School of Business.