High School Entrepreneurs Face Off in Pirates Pitch Winning $50,000 in Scholarships and Cash Awards
Wednesday, December 22nd, 2021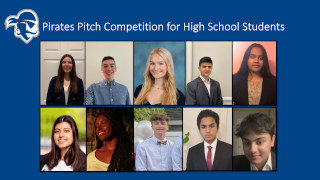 Ten finalists competed in the seventh annual High School Pirates Pitch.
Ten innovative high school entrepreneurs committed to launching their own startup or receiving support for fledgling businesses virtually competed as finalists in Seton Hall University's seventh annual High School Pirates Pitch competition, a Shark Tank-style competition recently hosted by the Center of Innovation and Entrepreneurship at the Stillman School of Business.
The finalists received $50,000 in prizes and University scholarships during the final competition, which celebrated National Entrepreneurship Month in the United States and entrepreneurs who serve their communities and bolster the American economy. The event was live streamed on Microsoft Teams.
Daniela Palacios, a Newark, NJ, junior attending Science Park High School, earned first place for Para KIDS! Aryan Gupta, an Edison, NJ, junior attending John P. Stevens High School, took second place, pitching his startup idea: Eggsplain.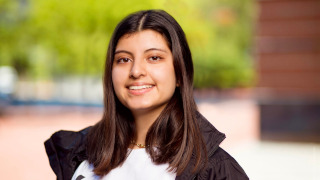 Daniela Palacios won first place for Para KIDS!
Palacios' winning idea earned her a $10,000 scholarship to Seton Hall and a $2,500 cash prize.
"It is an honor to have competed and be chosen as the winner of the Seton Hall University Pirates Pitch 2021 competition. My experience as a participant has further reinforced my purpose as a social entrepreneur and my commitment to growing Para KIDS!, my bilingual children's book company," Palacios said.
Gupta received a $6,000 scholarship to attend Seton Hall and a $1,000 cash prize in the competition.
"I feel that entrepreneurship and innovation are some of the most powerful tools we have in solving problems around the world. Being an entrepreneur is quite empowering in the sense of being able to affect broad change, and the Pirates Pitch competition was a wonderful opportunity to express this in a "Shark Tank" type setting. I was extremely happy to receive second place, and am further inspired to continue my entrepreneurial endeavors far into the future."
Susan Scherreik, founding director of the Center of Innovation and Entrepreneurship, explained that Seton Hall's High School Pirates Pitch helps develop and showcase entrepreneurial skills that align with the World Economic Forum's list of the top skills that professionals need to thrive, including complex problem-solving, critical thinking and emotional intelligence. The competition also introduces students to the Stillman School of Business, its Center of Innovation and Entrepreneurship, and its nationally ranked Center for Leadership Development within the Buccino Leadership Institute.
"The talented young entrepreneurs who participated as finalists in the Pirates Pitch for High School Students competition demonstrated passion, creativity and confidence. They are the 'best of the best' of the next generation of innovators and change-makers who will help to solve the many challenges our world faces today. The Center of Innovation and Entrepreneurship is honored to host this important annual event," explained Scherreik.
Fatou Yeli Kourouma, a junior from Teaneck, NJ, who attends THINK Global School in New York City, won the Audience Choice Award for the startup idea of Seventh, receiving a $4,000 scholarship to attend Seton Hall and a cash prize of $300.
Said Kourouma, "Sharing my entrepreneurial ideas with like-minded high schoolers and receiving feedback from industry professionals was an inspiring experience. Receiving the Audience Choice Award cemented the significance of the work I've put into developing and branding Seventh, and fuels me to continue working on my endeavor."
The remaining seven finalists received $4,000 scholarships to the University and included:
Dylan Fetterman, a sophomore at North Broward Preparatory School from Parkland, FL - Startup Idea: Inflight Fitness Program
Allison Galiene, a senior at Lake Forest High School from Lake Bluff, IL - Startup Idea: Brush Bestie
Arjun Jayaswal, a junior at West Windsor-Plainsboro High School North from West Windsor, NJ - Startup Idea: Scantron
Pooja Kedia, a junior at Hillsborough High School from Hillsborough, NJ - Startup Idea: The Trackerex Anxiety Tracking Watch
Garik Kazanjian, a junior at Park Ridge High School from Park Ridge, NJ - Startup Idea: Companion Trade
Trevor Morrell, a junior at Elmira High School from Elmira, NY - Startup Idea: The Translator Earbuds
Danielle Stanchak, a junior at Pascack Valley High School from Hillsdale, NJ - Startup Idea: Danielle's Doggie Delights
The prominent judging panel included Stillman business faculty and alumni entrepreneurs such as Elizabeth McCrea, associate professor of management and entrepreneurship; Christine Fowler-Phillips '90/M.P.A. '99, entrepreneurship and management expert specializing in corporate and personal branding as well as diversity and inclusion and the CEO/founder of Discover Your Best Self LLC; and Sunny Bathla '00/MBA '15, senior vice-president, Virtusa, and founder, OSB Co. Also on the judging panel was Alissa Lopez, M.B.A. '19, founder and CEO of the Family Balance Planner, and first-place winner in the 2019 Seton Hall collegiate Pirates Pitch competition.
Said McCrea, "Judging the 2021 Seton Hall High School Pirate's Pitch was very rewarding. I'm glad I got to meet all of the talented finalists. They clearly worked hard to develop their ideas to solve customers' problems or solve social issues. The students' enthusiasm and passion for their proposals was inspiring to witness. Above all, the participants demonstrated that they have a lot of talent, enthusiasm and knowledge to share with the world. I can't wait to see what they do in the future."
The High School Pirates Pitch is based on the Center's highly successful Collegiate Pirates Pitch Competition. The competition teaches high school students entrepreneurship basics and idea generation, recognizing and rewarding students with outstanding entrepreneurial know-how. For more information, please visit the Office of Admissions Pirates Pitch site.
Categories: Business