Analyzing Social Media for Insights Into Sharing Economy Platforms and Market Influences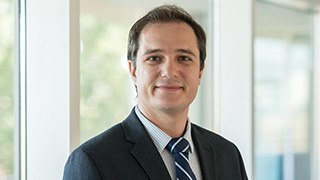 What do data from social media tell us about public sentiment in the real world? And how can those data insights drive companies and investors to make better financial decisions?
Sina Shokoohyar, assistant professor of computing and decision sciences at the Stillman School of Business, is an expert at mining publicly available data in his research — and in the classroom with his students.
"Data are freely available, and they're the most important commodity of this century," he says. "Data are the new oil."
Teaching undergraduate and graduate courses at Stillman, Shokoohyar involves his students directly in course projects and research, bringing real-world case studies and practical research questions into the classroom.
"Because of social media, we have easy access to big data online, but we need to think about how we select, clean and use data in research," he says. "These insights can help us make better business decisions, understand whether fear or greed is influencing the market and accomplish better stock trades."
Students in Shokoohyar's classes are learning how to write code that can scrape tweets from Twitter, analyze them and discover public sentiment about real issues. "One student is working on tweets from Trump to see how they impact the stock market; another student is collecting tweets from Elon Musk to see how they impact Tesla's stock price."
Another student, Blessing Zachariah, who is pursuing an MBA with a focus on supply chain management, has helped Shokoohyar author several teaching case studies. In one, published in Sage Business Cases, they explored why auto repossession agencies declined during the pandemic, and how that could lead to an increase in auto loan rates.
Shokoohyar's research has focused heavily in recent years on the sharing economy. "Sharing economy platforms (like Uber, Airbnb, Turo, gig work websites and apps) are growing very fast," he says. "People who have some extra product or service can share it on a platform to earn money."
Many of his studies have been inspired by personal experiences. "I was in D.C. for a conference and I wanted to Uber to my hotel. I noticed the prices were changing based on the weather," Shokoohyar says. Another time, in Philadelphia, he noticed surge pricing in an area of the city known for having more crime. "I started thinking about how factors like weather and neighborhood crime rates might affect demand for Uber rides and lead to surge pricing."
Collecting and analyzing more than 1 million data points about Uber usage in Philadelphia, he discovered that areas with more crime do indeed experience higher demand for Uber rides. "People may not feel safe walking around in areas with high crime," he says. "So demand for Uber goes up and prices increase to attract more drivers. That means areas with higher crime rates have better Uber accessibility; this was a surprising result."
In another study, Shokoohyar sought to understand how COVID-19 affected ridesharing platforms. "We collected data about Uber rides and found that sentiment toward ridesharing was very negative during the pandemic until the vaccines were rolled out. This mirrored Uber stock prices at the same time," he says. "Data indicate the vaccine has helped people think more positively about ridesharing, but even today people don't feel as good about it as they did before the pandemic. People still have concerns."
He also has taken a close look at accommodation-sharing platforms like Airbnb using machine-learning algorithms to interpret data. "We wanted to understand the factors influencing long-term and short-term rental demand, to figure out how lessors could decide which strategy would maximize their rental income," he says. "We studied several factors including closeness to historic attractions, number of bedrooms, crime rate, accessibility, demographics and nightlife vibe." The study found that homes near many attractions and nightlife options fare better as short-term rentals, while homes in rural locations are more in demand for long-term rentals.
He has published his findings in several peer-reviewed journals, including Technological Forecasting and Social Change, Journal of Cleaner Production, International Journal of Logistics Management, Journal of the Operational Research Society, Journal of Retailing and Consumer Services, Data Mining and Knowledge Discovery and Research in Transportation Economics.
For Shokoohyar, who joined Seton Hall's faculty in 2022, doing research and teaching go hand in hand. He says he always knew he wanted to be a professor.
"I was pursuing my Ph.D. at the University of Texas in Dallas, studying operations management, and all my advisors were saying that becoming a professor was a good idea based on my interest and passion. It's a great fit for me — I really enjoy teaching, doing research and helping students get involved in research."
Categories: Business, Science and Technology