Video of 'Ask A Lawyer' Entrepreneurship Workshop Available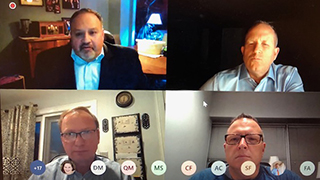 From top right, clockwise: Anthony Davis, Christopher Santomassimo, Alexander Anglim and Marco Gonzalez
During the recent Ask A Lawyer Entrepreneurship Workshop, hosted by the Center for Entrepreneurial Studies, attorneys Christopher Santomassimo and Anthony Davis, of Santomassimo Davis LLP, along with their colleagues, discussed what entrepreneurs need to know about intellectual property issues, including copyrights and patents, as well as other legal matters involved in starting a business.
The virtual workshop was well attended by Seton Hall students and faculty.
The Santomassimo Davis LLP law firm, based in Parsippany, is a sponsor of the Center's Pirates Pitch Startup 2020 Contest.
Missed the workshop? Be sure to view the video.
The Center for Entrepreneurial Studies in the Stillman School of Business is a driver of entrepreneurship on campus, including sponsoring startup competitions, entrepreneurship workshops, startup coaching and mentoring, an entrepreneurship boot camp and a summer startup venture accelerator program.
Categories: Business