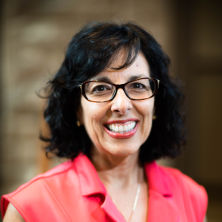 Throughout her 30 year career, Marcia has successfully led teams for both profit and non-profit organizations through her work in business operations, staff engagement, talent acquisition, building high performing technology teams. Her experience spans investment firms, financial exchanges and non-profits in the education reform movement.
Marcia is a certified corporate coach, obtaining her certification from the Institute of Professional Excellence in Coaching. She is currently working towards a certificate in Spiritual Direction (2019).
Marcia is a lay-leader and parishioner of St. Teresa of Avila parish in Summit, NJ. She loves working with people, witnessing and sharing her love of God. She has over 15 years experience building strong faith communities through various ministries, including Marian devotion, intercessory prayer, hospitality ministry, adult faith formation, middle school and high school youth groups, vocations ministry and parish retreats. Most recently, Marcia and her husband, Deacon Kevin Reina, facilitated a 12-week marriage enrichment program, called BELOVED. She has led ½ day retreats, including the "Spiritual Gifts Discernment Program – Called & Gifted Workshop".
Marcia has been an active participant in several workshops and classes at the Immaculate Conception Seminary – Institute for Christian Spirituality, including Women Mystics and Evangelization at Work.
Marcia and her husband, Deacon Kevin, have been married over 30 years, have 2 married daughters and they are the proud grandparents of Luke and Andrew.