League Of Legends Spring 2022 Season Continues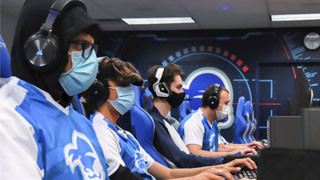 Just past the halfway point of regular season action, Seton Hall and DePaul have jumped ahead in the standings, opening the spring season with a perfect 4-0. This season, eight teams have been participating in the seven-week regular season which is set to conclude with playoffs March 26-27. Competing schools include: Butler, Connecticut, DePaul, Georgetown, Marquette, St. John's, Seton Hall and Villanova.
Aiming to defend its fall title, DePaul has yet to drop a round this spring winning each of its four best of three series, 2-0. The Pirates have been equally as impressive with a perfect 8-0 round mark, including a 2-0 win over fall runner-up St. John's.
With just one setback this spring, a 2-0 defeat against DePaul, Connecticut sits in third place with a 3-1 record. Meanwhile, tied for fourth are St. John's and Villanova at 2-2, while Butler (1-3), Georgetown (0-4) and Marquette (0-4) round out the BIG EAST standings through four weeks.
All eight teams are back in action Saturday, starting with Marquette against St. John's at 1 p.m. on the official EGF channel, while Connecticut battles Seton Hall simultaneously on BIG EAST Twitch. At 3 p.m., DePaul takes on Villanova on EGF and Butler battles Georgetown on BIG EAST Twitch.
Operated by Battlefy, the League of Legends format will again be best of three with the regular season concluding on March 19, before the semifinals and the grand finals on March 26 and 27.
To follow updates on social media, follow #BIGEASTesports. For more on the BIG EAST Conference's involvement in Esports visit www.BIGEAST.com/esports.
EGF/BIG EAST Twitch Broadcast Schedule
Saturday, March 5
Saturday, March 12
Saturday, March 19
Categories: Athletics, Science and Technology