Fall 2022 Esports Season Kick-Off
Friday, September 30th, 2022
2022 has been a great year so far for the Pirates esports teams. With the addition of 2 BIG EAST Titles and a National Title to their acclaim, the program is looking to continue its success into the Fall. The upcoming esports season promises to bring more challenges and big changes to the program.
New Coach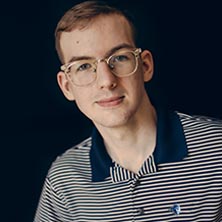 Seton Hall University is proud to announce that Blake "Ulti" Griesbauer, has been selected as the Seton Hall Rocket League Coach, effective September 26, 2022. The onboarding of a dedicated coach is among the first in BIG EAST history and reaffirms Seton Hall's commitment to engaging students and remaining one of the most competitive programs in the nation.
To learn more about the new manager, read the official announcement.
---
League of Legends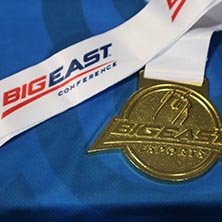 The League of Legends team dominated the Spring season going undefeated into the Big East Championship. They entered the event as the No. 1 seed, Seton Hall (9-0) faced No. 3 seeded Connecticut (5-4) in the title game, with the Pirates earning the 2-0 victory and the championship.
Overall, Seton Hall finished the season undefeated in series record, winning 18 out of 20 total individual games over the course of the spring slate. They went on to be ranked at No. 28 in North America in the University League of Legends National Tournament.
This fall season sees some changes to the squad as the team enters a transitionary period. Returning to the team as Captain, Ryan "IvernedThisRank" Kijevcanin, is looking to apply his years of experience to benefit the program. Now a Junior, he is working on training first year and substitute jungler, Daniel "Klaryio" Vargas-Jaramillo and focusing on cultivating a culture of success.
Coming in as the starting top laner during his senior year Justin "Fleuber Burbler" Lee, as one of the deadliest top laners in the conference, Justin took some time to refine his craft further in the off season and is accompanied by the sophomore Emmit "Sinons Hecate" Fitzgerald as top laners for the team.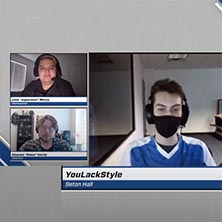 In the middle lane, Garret "YouLackStyle" Belardi, a Junior most famous for his now legendary rookie season prophetic interview in season three: "I think we are shooting for undefeated this spring."
Besides proving his skill in the Spring, Garret has been expanding his champion pool and taking the time to talk strategy with the new substitute for the mid-lane, Aidan "RareCandles" Joyce a first year student.
Looking to the bottom lane, Ian "Krop" Kropliak, now a senior looks to cement his legacy as the most effective ADC in the BIG EAST Conference. Known for his creative build paths and fervent fan base, Ian is also looking to pass down his knowledge. With the addition of first year Rija "Malevoyance" Sabeeh, the bottom lane for Seton Hall is bound to see some exciting changes.
Rounding out the roster are the players in the Support role, Kevin "Vollme" Craig known for his expertise in tank supports, shares his role on the starting lineup with Rose "RoseDreamzzz" Tramm. Rose who is now a sophomore, and known for her effectiveness in her champion pool, has proven her mettle in and out of season. Kevin, now a senior, is excited for the future of Seton Hall's League of Legends roster, citing the skill and passion of roster gives him confidence for the upcoming season and years to come.
League of Legends starts with a fall tournament hosted by the BIG EAST and broadcast by broadcast partner, EGF. Game 1 is set to take place Saturday, October 1 at 3 p.m. vs Marquette and will be streamed live. The competition is operated by Battlefy. The League of Legends format will be a best of three with the regular season concluding on Nov. 12, before the semifinals and the grand finals on Dec. 3 and 4 on Twitch.tv/BIGEASTesports.
EGF/BIG EAST Twitch Broadcast Schedule (As of 9/30)
Saturday, Oct. 1
Marquette vs. Seton Hall, 3 p.m. (BIGEASTesports)
Saturday, Oct. 8
BYE WEEK
Saturday, Oct. 15
Villanova vs. Seton Hall, 1 p.m. (BIGEASTesports)
Saturday, Oct. 22
Seton Hall vs. Creighton, 3 p.m. (BIGEASTesports)
Saturday, Oct. 29
Seton Hall vs. Butler, 1 p.m.  (OfficialEGF)
Seton Hall vs. Connecticut, 5 p.m. (BIGEASTesports)
Saturday, Nov. 5
Seton Hall vs. Georgetown, 5 p.m. (OfficialEGF)
Saturday, Nov. 12
DePaul vs. Seton Hall, 1 p.m.  (OfficialEGF)
---
Super Smash Brothers Ultimate
Having had their inaugural season last year the Pirates SSBU squad has been hard at work getting experience on a national scale. As one of the newest institutions to join the EGFC SSBU league, the Pirates went through a trial by fire in experiencing competition vs other universities. The add to the challenge, the Seton Hall SSBU Captain, Walter "Trey" Jackson, graduated in the spring leaving a positional and player void. Taking on the captain role is Junior Noah "N0ah" Ferro, the Physics and Engineering Major is excited to return to the stage for another season. Returning alongside him are:
Joseph "Blob_Man35" Mandara
Jordan "Elementor" Levine
Nikolas "Gymbo2000" Theodoracopoulos
Gianni "Gman1021" Feraco
Aidan "Owser" Grant
Rounding out the roster is a new player, "Apollo", a sophomore who has been refining his skills and hopes to challenge the EGFC veterans. With nearly every member doubling their time in game it is safe to say this is a roster hungry to compete and grow.
SSBU will have their debut match on October 4 vs St. John's University at 8:30 p.m. EST, which will be broadcasted live on Twitch.tv/OfficialEGF.
EGF/BIG EAST Twitch Broadcast Schedule (As of 9/30)
Tuesday, Oct. 4
St.John's vs. Seton Hall, 8:30 p.m. (TTV/officialEGF)
Tuesday, Oct. 11
George Washington University vs. Seton Hall (OFFSTREAM)
Tuesday, Oct. 18
UT Arlington vs. Seton Hall, 5:30 p.m. (TTV/EGFssbu)
Tuesday, Oct. 25
Wichita State University vs. Seton Hall, 7 p.m. (TTV/EGFssbu)
Tuesday, Nov. 1
George Washington University vs. Seton Hall, 7 p.m. (TTV/officialEGF)
Tuesday, Nov. 15
Villanova University vs. Seton Hall, 5:30 p.m. (TTV/officialEGF)
Tuesday, Nov. 29
U Tennessee vs. Seton Hall, 7 p.m. (TTV/EGFssbu)
Tuesday, Dec.6
U Hawaii vs. Seton Hall, 10 p.m. (TTV/officialEGF)
---
Rocket League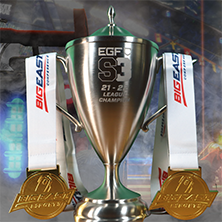 The Rocket League team made history last season in the Spring 2022 Rocket League Big East Tournament, as it concluded with top-seeded Seton Hall defeating fourth-seeded DePaul, 3-1, to claim the BIG EAST Title.
Entering the tournament with a perfect 8-0 conference record, the Pirates maintained form with a perfect 4-0 mark in matches, winning a total of 12 out of 14 individual games. They would go on to claim the national EGFC Rocket League Season 3 Title with a 4-2 win over the Delaware Blue Hens. Having brought in the programs first national title and the team's first BIG EAST championship, the Pirates are hungry for more. The roster has seen addition of a new substitute in the form of senior Joseph "LittleSheep94" Seibert-Arnold.
The Seton Hall Rocket League will be back on the virtual pitch on October. Matches will be broadcasted live at Twitch.Tv/officialEGF. Matches this season will take place weekly on Wednesday. The full match schedule is available on the schedule page.
EGF/BIG EAST Twitch Broadcast Schedule (As of 9/30)
Wednesday, Oct. 5
Butler University vs. Seton Hall, 8 p.m. (TTV/officialEGF)
Wednesday, Oct. 12
Villanova University vs. Seton Hall, 8 p.m. (TTV/officialEGF)
Wednesday, Oct. 19
DePaul University vs. Seton Hall, 7:15 p.m. (TTV/EGFrocketleague)
Wednesday, Oct. 26
BYE WEEK
Wednesday, Nov. 2
UT Arlington vs. Seton Hall, 7:15 p.m. (TTV/officialEGF)
Wednesday, Nov. 9
U Tennessee vs. Seton Hall, 7:15 p.m. (TTV/EGFrocketleague)
Wednesday, Nov. 16
U Hawaii vs. Seton Hall, 10:15 p.m. (TTV/officialEGF)
Wednesday, Nov. 30
William & Mary vs. Seton Hall, 8:45 p.m. (TTV/officialEGF)
Categories: Science and Technology