Seton Hall Esports Hosts Campus Series for High School Students
Wednesday, April 12, 2023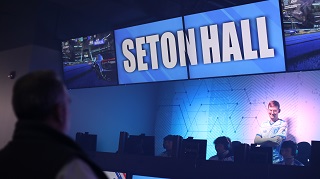 Seton Hall Esports is proud to announce their upcoming event, the Seton Hall Campus Series, taking place on April 29 - 30 at Seton Hall University. The two-day LAN event will feature a recruiting showcase as well as Rocket League and Super Smash Brother's Ultimate competitions with a total prize pool of $400. Players are guaranteed at least three matches, with group play beginning on Saturday, April 29th and continuing into a final bracket to crown champions on Sunday, April 30th. Thanks to the generous support of DELL, students will be able to compete in a LAN environment with top-of-the-line computers.
This is an incredible opportunity for high school students to compete in front of collegiate recruiters and explore potential scholarship opportunities. Additionally, high school players and their parents are invited to attend a college fair on Saturday, April 29 at noon to meet with esports representatives from Seton Hall and the other participating institutions, including NJCU, Kean University, University of Connecticut, DePaul University and the College of Staten Island. Individual player tickets for Super Smash Bros. Ultimate and Rocket League are available for just $10 each, and team passes for Rocket League are available for $27.
We invite all high school students who love gaming to attend this exciting event to discover new opportunities and showcase their skills in a fun and competitive environment. Register now at https://www.staypluggedin.gg/events/seton-hall-campus-series. Registration closes on Thursday, April 27th. Please note, you will need to be logged in to register. If you have any questions, contact [email protected].
Categories: Science and Technology