League Of Legends Team Enters National Tournament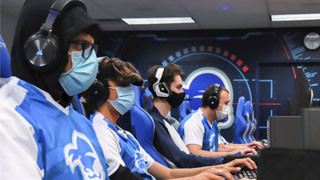 The 28 seed Pirates are breaking more program records as they set to compete against 5 seed Western Legends in the 2022 League of Legends College Championship. The Round of 32 is set to kick off April 24th with 32 teams competing from 20 different conferences across North America. The teams will be vying for scholarship prizes awarded to the top 16 teams on the road to be crowned the best team in North America.
The Seton Hall League of Legends Team is preparing to break yet another program record on April 24th as they face the fifth ranked Western University Western Legends. The Western Legends are four-time East Conference Champions, four-time National Championship Qualifications, and four-time First Seed. The Pirates join as the representative of the Big East Conference after an undefeated season and an undefeated nine series playoff run.
Throughout the Pirate's successful season, the team climbed from fifth to first place, competed in over 160 games, introduced two new substitutes and most importantly, claimed the Big East League of Legends Tournament. This will be the Pirate's first appearance in program history to the round of 32 in the national championships.
Watch the Pirates compete on April 24th at 2 p.m. on Twitch.
About Seton Hall Esports
A leader in the field, Seton Hall has had an esports club team since 2013. Among the first University gaming organizations in the state of New Jersey to be recognized, the team has been asked by a number of gaming organizations to provide insight into the future of collegiate gaming. The Seton Hall Esports team has played a pivotal role in the shaping and formation of league-sanctioned collegiate play. In November 2019, the University completed construction on a state-of-the-art computer lab and esports facility with dedicated and optimized computers for students' recreational and competitive use. The Pirates are Spring 2020 and Spring 2022 BIG EAST League of Legends Champions, the 2020 BIG EAST-MAAC Esports Tournament Rocket League Champions, the 2018 BIG EAST Inaugural Rocket League Winter Invitational Champions, and Spring 2022 Rocket League Champions.
About the BIG EAST
The BIG EAST Conference is an association of 11 nationally prominent colleges and universities that foster healthy athletic competition, community service and the pursuit of excellence in academic environments. The athletic programs of BIG EAST institutions provide national-caliber participation opportunities for more than 4,100 student-athletes on over 200 men's and women's teams in 22 sports. Established in 1979 and headquartered in New York City, the BIG EAST's members are located in eight of the country's top 36 largest media markets and include Butler University, University of Connecticut, Creighton University, DePaul University, Georgetown University, Marquette University, Providence College, St. John's University, Seton Hall University, Villanova University and Xavier University. For more information, visit www.bigeast.com.
Photo credit: Rosalyn Tramm, Rose Studio Photography
Categories: Athletics, Science and Technology