BIG EAST and MAAC to Face Off in Annual Esports Challenges
Thursday, December 2nd, 2021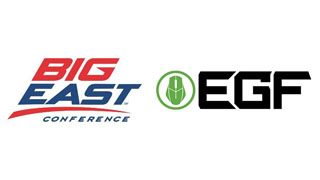 The BIG EAST and Metro Atlantic Athletic Conferences (MAAC) finalized broadcast and event plans for the 2021-22 EGFC MAAC-BIG EAST Challenge which will be held online on December 4th and January 28th. The Challenge will host 14 schools from the two athletic conferences competing head-to-head, one conference against the other. The matches for both events will be produced by the Electronic Gaming Federation, the governing body for Division I collegiate esports.
"Esports continue to grow nationally and certainly within the BIG EAST Conference", said Chris Schneider, BIG EAST Executive Associate Commissioner for Sport Administration and Championships. "We are excited to continue our relationships with EGF and the MAAC in providing our esports programs with great competition."
The first Challenge will begin with Rocket League on Saturday, December 4, with teams from each respective Conference competing against one another across 6 total matches with the Conference earning the most wins being crowned the Challenge Champion. The following month, the Conferences will meet once again in Super Smash Bros. Ultimate on January 28.
Rocket League Challenge:
Saturday 12/4 on twitch.tv/officialEGF
6:30 PM ET - St. John's University vs. Niagara University
7:15 PM ET - Butler University vs. Fairfield University
8:00 PM ET - Seton Hall University vs. Iona College
Saturday 12/4 on twitch.tv/BIGEASTesports
6:30 PM ET - DePaul University vs. Canisius College
7:15 PM ET - Xavier University vs. Siena College
8:00 PM ET - University of Connecticut vs. Marist College
Super Smash Bros. Ultimate:
Saturday 1/29 @ 12 PM ET on twitch.tv/officialEGF
Saturday 1/29 @ 12 PM ET on twitch.tv/BIGEASTesports
Actual match schedule will be released at a later date.
"As the MAAC continues to work to provide more opportunities for our esports players, we are excited to see a second year of the BIG EAST-MAAC Challenge," said Kiernan Ensor, MAAC Esports Consultant.
The MAAC-BIG EAST Challenge follows the Fall 2021 Split of EGFC Season 3, hosting 35+ Division I colleges over 6 game titles. The season resumes in February with the start of the EGFC Season 3 Spring Split with an expected 50+ Division I colleges and universities will continue on the path to the national championship in April.
About the BIG EAST
The BIG EAST Conference is an association of 11 nationally prominent colleges and universities that foster healthy athletic competition, community service and the pursuit of excellence in academic environments. The athletic programs of BIG EAST institutions provide national-caliber participation opportunities for more than 4,100 student-athletes on over 200 men's and women's teams in 22 sports. Established in 1979 and headquartered in New York City, the BIG EAST's members are located in eight of the country's top 36 largest media markets and include Butler University, University of Connecticut, Creighton University, DePaul University, Georgetown University, Marquette University, Providence College, St. John's University, Seton Hall University, Villanova University and Xavier University. For more information, visit www.bigeast.com.
About the Metro Atlantic Athletic Conference:
With 11 institutions strongly bound by the sound principles of quality and integrity in academics and excellence in athletics, the Metro Atlantic Athletic Conference (MAAC) is in its 41st year of competition during the 2021-22 academic year. Current conference members include: Canisius College, Fairfield University, Iona College, Manhattan College, Marist College, Monmouth University, Niagara University, Quinnipiac University, Rider University, Saint Peter's University, and Siena College.
ABOUT EGF
Founded in 2015, EGF is the national governing body for formalized collegiate D-I esports and high school level leagues. EGF's youth, high school and D-I collegiate leagues are inspired by the best aspects of traditional sports to create opportunities for students and schools to engage and advance. For more information or to inquire about collegiate participation, please visit EGF.gg, follow @officialEGF on Twitter, Instagram and Twitch and Facebook or contact [email protected].
Categories: Athletics, Science and Technology