The Center for Catholic Studies Welcomes Fifth Toth-Lonergan Scholar Francesca Zaccaron, Ph.D.
Wednesday, September 13th, 2023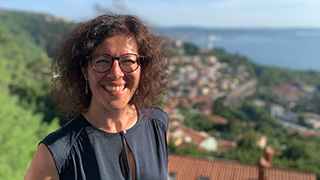 The Center for Catholic Studies is pleased to introduce the new Toth Lonergan Visiting Professor, Francesca Zaccaron, Ph.D.. Having worked previously with Seton Hall faculty members, a GEM scholar and visiting lecturer in 2016, 2018, and 2019 and organizer of the 2017 summer workshop for the Praxis Program of Advanced Seminar on Mission, she now returns to lend her unique blend of academic and practical expertise to the role of Toth-Lonergan Chair—a facilitator of interdisciplinary dialogue between the mission and identity of the university and the diverse disciplines of its students, faculty and staff.

Hailing from the culturally and religiously diverse region of Trieste, Italy, Zaccaron's hometown environment of openness and encounter first fostered her fascination with intercultural exchange. While completing her Ph.D. in Theories, History and Methods of Education at the LUMSA University (Rome) and participating in the Ph.D. student exchange program at King's College, London, she connected with Seton Hall's own Msgr. Liddy and fell in love with the work of Lonergan. Zaccaron went on to become a Post-Doctoral Fellow at the Lonergan Institute of Boston College, where she was able to immerse herself in the Lonergan community and the richness of Ignatian spirituality infused in his thought.

Zaccaron is dedicated to helping young people on their paths through education, and she believes Lonergan's approach to educating the whole human person and engaging divergent perspectives has much to offer students of every age. In an ever-changing technological world, she believes that "Lonergan gives perspective for today but also for times to come." A member of PESGB (Philosophy of Education Society of Great Britain) and of American Maritain Association, she holds a tenured position in the school system of North-East Italy, teaching philosophy and history at Liceo Francesco Da Collo (Conegliano, TV), while also heading the orientation, CLIL (Content and Language Integrated Learning), and Parole O stili projects.

In addition to her Lonergan background, Zaccaron serves on the Board of Directors at the Jacques Maritain Institute (Trieste, Italy), which studies Maritain's philosophy of personalism for application to contemporary society's discussion of human rights, development, democracy, and dialogue. In collaboration with the Institute, Zaccaron also serves as director of Anthropologica, its connected journal and philosophical yearbook, and editor for the publishing house Edizioni Meudon.

On behalf of the Center here at Seton Hall, director Patrick Manning extends a warm welcome to Zaccaron: "I am very pleased to welcome Zaccaron to Seton Hall. We have benefited from her philosophical insights and experience as an educator in the past when she came to visit Seton Hall or joined our Praxis workshops abroad. It excites me to think about all the beautiful possibilities that will unfold in this next year during which she will be living, teaching, thinking, and conversing with us here in South Orange."

Nancy Enright, Ph.D., Director of University Core, also expressed her department's support: "In the Core we are especially excited to welcome Zaccaron as the Toth-Lonergan scholar, as she will be teaching a section of Core I: Journey of Transformation for us this fall. She will be a wonderful addition to the Core, as she will certainly also be, as the Toth-Lonergan Scholar for the Catholic Studies Center, the Praxis Program, and other areas."

The Toth-Lonergan Scholar, named for Deacon William Toth (1940-2008), a former professor at the Immaculate Conception Seminary School of Theology, and Bernard Lonergan, S.J. (1904-1984), a philosopher-theologian who developed the "Generalized Empirical Method" (GEM) theory of cognition, was created by the Center for Catholic Studies to propagate these scholars' emphasis on the alignment of faith and reason in the realm of the university, uniting theory and practice through scholarship across disciplines. Zaccaron's deep study of Lonergan's philosophy combined with her hands-on experience with interdisciplinary service and education make her ideally suited to this mission, and the Center looks forward to her contribution.

For more information on the Toth/Lonergan Endowment Fund, contact the Center of Catholic Studies at [email protected].
Categories: Faith and Service