Entrepreneur Masterclass Featuring Gabino and Stephen Roche, Co-Founders of Saphyre, a Fintech Startup
Wednesday, March 8th, 2023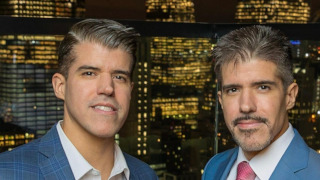 Seton Hall University 2023 Entrepreneur Hall of Fame inductees Gabino and Stephen Roche, co-founders Saphyre, will speak about their entrepreneurial journey and provide students with valuable information and tools for starting a business at an entrepreneurship masterclass on Wednesday, March 29. This exciting masterclass will take place from 5-6 p.m. in the newly renovated University Center Theater on the Seton Hall University South Orange campus. The Roches will speak about how they are building their fintech startup which is revolutionizing back-office operations in their industry. All students and faculty are invited.
To register for the event please click HERE.
Following successful corporate careers in finance and technology, twin brothers Gabino and Stephen Roche launched Saphyre, an innovative and disruptive financial technology (fintech) venture, in 2017.
Since then, the Stillman School-educated Gabino and his brother Stephen have embarked on a nonstop mission to revolutionize the way brokerage firms, custodian banks, investment managers and other financial companies manage the manual-intensive process of managing client trading accounts. Saphyre's key to success is its patent-approved AI technology that digitizes and speeds the pre-trading space, while providing trading and post-trade benefits for financial institutions at the same time. The company, which holds 105 patents, has dramatically increased the efficiency of back-office operations that formerly were accomplished with faxes, emails, phone calls and spreadsheets. Saphyre, based in Hoboken, N.J., secured $18.7 million in Series-A funding in 2022, and clients and investors include JPMorgan Chase & Co. and Blackrock, Inc.
The Roches, who are involved in many professional and community organizations, will be honored at the Seton Hall University Entrepreneur Hall of Fame Reception immediately following the entrepreneur masterclass event. Gabino Roche, '98, is a member of the Center of Innovation and Entrepreneurship Advisory Board.
Categories: Business, Science and Technology