Seton Hall Student Entrepreneurs Win Virtual Pirates Pitch with $25,000 in Prizes
Wednesday, April 8th, 2020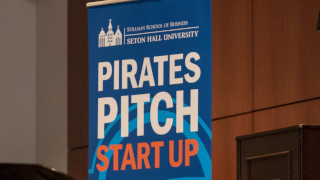 Seton Hall student entrepreneurs compete in 10th annual Pirates Pitch Startup Contest
Five teams of Seton Hall University student entrepreneurs pitched their business ideas for more than $25,000 in venture capital seed funding at the 10th annual Pirates Pitch Startup Contest sponsored by the Stillman School of Business' Center for Entrepreneurial Studies. The April 1 event, originally slated to be held before a live audience of several hundred students and faculty in Jubilee Hall, instead assumed a virtual format because of social distancing restrictions caused by the coronavirus (COVID-19) outbreak in the United States.
How did the virtual contest go?
Tremendously well, according to Joyce Strawser, dean of the Stillman School of Business. "These young entrepreneurs are an inspiration! Although they are at very different stages of concept development, each team has an intriguing business idea," Strawser said. "I am especially impressed by the students' ability to adapt so successfully to a virtual pitch presentation. Our judges provided some terrific advice, which I know students will find invaluable as they continue pursuing entrepreneurial ventures. In all, I am incredibly proud of our entrepreneurship community!"
All five teams received seed funding for their projects, with Stillman senior Noah Thompson taking home the largest amount at $6,500 for Agape, an athletic apparel ecommerce site that will allow shoppers to buy high quality merchandise at cost. Thompson, who also is a finance major and pitcher for the Seton Hall University baseball team, impressed the judges with his innovative retail model and his extensive research, including visiting factories in China last summer. He shared that Agape already sells customized leggings to sororities nationwide as a first step in building the business. His ultimate goal, he added, is to enable overseas factories to earn a fair profit while letting shoppers buy high-quality merchandise at cost. Agape will profit by charging shoppers a membership fee for access to bargain prices.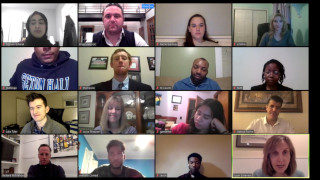 Seton Hall student entrepreneurs compete in 10th annual Pirates Pitch Startup Contest
Buccino Leadership Institute sophomores Rachel Badway, a finance major, and Robin Schilke, an art and design major, pitched LeadAhead and received $4,500.
"In our tech focused world, we often forget to develop the leadership skills that help set professionals apart in the workplace," Badway said. LeadAhead plans to teach key leadership skills through a series of fun and engaging activities that students can complete on their cell phones. The startup idea grew out of a leadership class project, with Badway and Schilke already employing skills and concepts they are learning in the leadership program.
The student team of sophomore Luke Tyler and junior Marian Bsharat, co-founders of Edith, were awarded $3,000 for their proposed digital workforce management software. The goal is to enable companies to boost productivity and employee retention rates by tracking early signs of worker burnout. Edith will then suggest work-flow changes to help each employee improve their job experience. Tyler is majoring in finance and minoring in computer science, and Bsharat is majoring in finance, entrepreneurship and marketing.
Faith Akinlade and Belen Gamarra were awarded $1,250 for their business idea KINetics, an app that would help members of health and fitness clubs with similar interests to meet each other to work out together. The app also encourages users to get together socially to improve their physical, mental and social health. Akinlade and Gamarra are both sophomores in the Buccino Leadership Institute, and Akinlade is a civil engineering and physics major, while Belen is majoring in psychology with a business minor. In November, the team won first place for their startup idea in the Health Care Transformation Challenge sponsored by Horizon Blue Cross Blue Shield of New Jersey.
Seniors Anthony Conrad, Jevon Mitchell and Marcellus Counts, and junior Quintar Mathis were awarded $750 for Don'tStop.Skate, a mobile skate repair shop that would be similar to a food truck. They plan to create skate repair trucks that will frequent popular skate parks to provide instant repairs of wheels and boards so that the skating experience won't be cut short. Otherwise, skaters can be out of commission for days while they find a repair shop and wait for repairs to be made. Conrad is majoring in management, Mitchell in finance, Counts in social and behavioral sciences, and Mathis in liberal studies with a communications minor.
As part of their awards, the student teams will receive pro bono legal services from attorneys Christopher Santomassimo and Anthony Davis and their staff at Santomassimo Davis LLC, a law firm with offices in Parsippany, and a sponsor of the Pirates Pitch startup contest.
To also encourage the student teams to continue to develop their startup business models, the judges told them each team can earn as much as $1,500 in additional venture seed money capital if the team successfully completes a new eight week virtual summer accelerator program being launched in May by the Center for Entrepreneurial Studies.
Susan Scherreik, founding director of the Center for Entrepreneurial Studies, expressed her pride in the student teams. "These young entrepreneurs demonstrated passion and drive as they overcame many obstacle to compete in Pirates Pitch this year," she said. The Finalist Teams, she noted, worked remotely to write their required business plans, create five-minute videos that they submitted to the judges to substitute for live pitches, and then held question and answer sessions with the judges in video-conference sessions. "Pirates Pitch continues to grow and develop as a competition," Scherreik added. "That growth is a reflection of both the limitless creativity and ingenuity of Seton Hall students and the planning and support of all of those involved."
The alumni investor judges were:
Bryan Jakovcic '09, President and Owner, Fusion Health
Rich McMahon '87, CEO, cda Ventures and former CEO and President of Bed, Bath & Beyond, and Seton Hall University Regent
Pravina Raghavan '01, Executive Vice President, Division of Small Business and Community Economic Development at Empire State Development
Gabino Roche Jr. '98, CEO and Founder, Saphyre
During the competition, the judges shared how impressed they were with the caliber of the students' ideas, the effort they put into their business plans and video presentations, and their poise during the question and answer sessions.
You all have done a great job and you all have what it takes to be very successful in life," judge Bryan Jakovcic told the students during the contest video meeting.
"Pirates Pitch is a phenomenal way of encouraging the entrepreneurial spirit of students at Seton Hall University," noted judge Pravina Raghavan. "It introduces young entrepreneurs to a network of experienced individuals who can provide valuable feedback that can take the ideas to the next level."
Added judge Rich McMahon: "Entrepreneurs live and breathe their businesses, and I look forward to seeing you continuing to develop your startups in the summer accelerator program."
To learn more about the student teams and their startup ideas, visit the Center for Entrepreneurial Studies Pirates Pitch webpage.
For more information about the new summer accelerator program, contact Director Susan Scherreik at [email protected].
Categories: Business