By More than 2-1, Public Says Student Athletes Should Be Allowed to Profit from Use of Name/Image/Likeness; Number Opposed to Student Athlete Compensation Drops Dramatically
Thursday, March 18th, 2021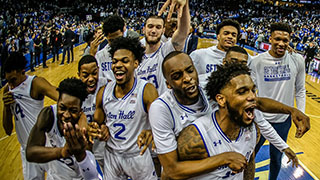 By more than a 2-to-1 margin, Americans believe that student athletes should be allowed to profit from the use of their name, image or likeness (NIL), according to a national poll conducted March 13-15 by the Seton Hall Sports Poll. This result is consistent with the poll's findings from 2019.
Fifty-six percent of the general population favored compensation, with 25 percent opposed and 19 percent undecided. Under NCAA rules, such compensation has never been permitted among colleges in the US.
The trend is relatively steady from when the question was first asked in an October 2019 Seton Hall Sports Poll, where slightly less than a 2-to-1 margin favored NIL compensation for student athletes. In that poll, however, the number in favor of compensation was larger (60 percent) ) but so was the number opposed (32 percent compared to just 25 percent in this most recent poll). In 2019 the number of undecided was just eight percent; in 2021 the undecided on the issue totaled 19 percent.
The margin of error for this week's poll is 3.2 percent; in 2019 it was 3.8 percent. A total of 1,538 people participated in the current poll, geographically spread across the country.
Sports Fans in Favor, 10 pt. Net Shift Up
Among those who consider themselves to be "avid fans," 74 percent favored NIL compensation, and only 16 percent did not. Among all those who describe themselves as "sports fans," the margin was 64-26 percent in favor of compensation. Those who said they were not fans at all still favored compensation for use of name, image and likeness by 46-25 percent.
The results among sports fans was consistent with the poll's findings in 2019, where 60 percent of those who followed sports were in favor of NIL compensation and 32 percent were not. The current results for sports fans show a small increase of those in favor (4 pts.) as well as a larger decline (6 pts.) in those opposed, equaling a 10 point favorable shift in total since 2019.
"Given the differences in the margin of error between the two polls, the relative novelty of the question and the similarities in the results, it's fair to say that the two polls show a consistency of thought on the issue – with the general public favoring NIL compensation by at least a 2-to-1 margin if not more," said Seton Hall Professor of Marketing and Poll Methodologist Daniel Ladik. "That's a sizable margin in polling, And for sport fans, it's even greater."
Who Decides?
Asked "who should decide" the question of NIL compensation for student athletes, 44 percent said a "court of law," and 25 percent said the NCAA. This result is a dramatic shift from 2019 when 59 percent said it should be the NCAA. Thirty percent said they did not know or had no opinion on the question in the current poll.
Should All Student Athletes in Revenue Generating Sports Be Financially Compensated? A Dramatic Shift in Favor
Respondents were also asked whether student athletes should be financially compensated beyond scholarships and a cost of attendance stipend for participating in revenue-producing sports such as basketball and football. Here there is a far more dramatic trend: only 31 percent said "no," compared to 60 percent in 2017 and 71 percent when the question was asked in 2013.
"Unlike NIL, overall compensation for student athletes is not a novel question and the answer is even clearer," said Professor Charles Grantham, Director of the Center for Sport Management within the Stillman School of Business, which oversees the Seton Hall Sports Poll. "Opposition to these athletes sharing in the bounty of this multi-billion dollar business that we refer to as 'amateur athletics' has fallen away dramatically over the last decade." Grantham, the former executive director of the National Basketball Players Association, further observed "One has to believe that as this 'amateur' business model has grown exponentially lucrative, so has the perception of exploitation. We remedied this in the pro model through revenue sharing with the athletes. It would seem as though the public, and especially sports fans, are looking for a viable and equitable solution for student athletes. Revenue sharing could do that."
In the current poll, 49 percent said yes they should receive compensation, with "avid fans" saying yes by a 68-26 percent margin, "sports fans" yes by a 58-31 percent margin, and "casual fans" saying yes by a 53-33 percent margin. Non-fans were closer – the yes margin was 37-33 percent, with 30 percent saying they did not know or had no opinion.
Categories: Athletics, Business, Nation and World