Sports Poll on World Cup Featured in Axios and by Journalist Grant Wahl
Friday, December 2nd, 2022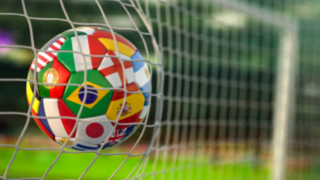 Findings from the most recentSeton Hall Sports Poll were featured by Axios and by Grant Wahl, the leading soccer journalist in North America.
The findings covered public perception about the 2022 World Cup and the controversial decision of FIFA, the World Cup's governing body, to hold the games in Qatar.
In a tweet to his 844,000 followers and in Fútbol with Grant Wahl, "USMNT World Cup Daily," reporting from Qatar, Wahl writes:
DOHA, Qatar — I can't tell you how many American soccer fans I have run into who say they're conflicted about following this World Cup due to Qatar's human rights record toward migrant workers, women and the LGBTQ community, and a new scientific poll conducted by Seton Hall University confirms it.
In a nationally representative poll conducted in the U.S. this week of 1,533 adults across the country, 46% of American soccer fans said reports of migrant worker abuse in Qatar have lessened their interest in this World Cup. (The poll has a margin of error of plus- or minus-2.5%.)
In other poll findings, 54% of all Americans polled believe the World Cup should not be taking place in Qatar. And by better than 2 to 1, respondents:
believe that FIFA is not ethically centered
agree with the official French position of not using large public TV screens to view this World Cup
agree with Denmark's announcement it would wear essentially anonymous jerseys rather than be identified with this World Cup
Also, by more than 3 to 1, respondents support Amnesty International's call for Qatar and FIFA to create a fund for migrant workers and their families who have suffered injuries or death.
This is the elephant in the room around the Qatar World Cup, and the poll confirms that large numbers of Americans care about the topic. It also makes the decision by Fox Sports, a World Cup broadcaster, to refuse to address Qatar's human rights record a continuing embarrassment as it pockets millions of dollars from the Qatari government (through Qatar Airways) as a sponsor.
The findings Wahl references, with questions, charts and breakdowns, are available in the Sports Poll release, "Majority of Americans Say World Cup Should Not Be Held in Qatar."
The Axios article, "The World Cup of controversy," details in bulleted fashion both the history of the host nation as well as the corruption-tinged process by which it was named host. The Sports Poll finding functions as a culmination. Axios writes:
The 2022 World Cup has been marred by controversy from the very start, and the stench of FIFA's corruption and Qatar's human rights abuses still lingers as the event gets underway.
How we got here: 100 years ago, Qatar was a sparsely populated British protectorate. Then, after discovering oil (1939) and one of Earth's largest natural gas reserves (1960), it transformed into an incredibly wealthy nation.
By the turn of the century, Qatar was a major player in global politics. But a desire for more prestige and clout led the country, much like its Gulf neighbors, to a potent source: soccer.
Qataris acquired French club Paris Saint-Germain and launched beIN Sports, big moves that shook up Europe. But the crown jewel was the World Cup.
Qatar was named host in 2010, a stunning development that triggered bribery accusations.
18 members of FIFA's 24-person executive committee have since been implicated in or investigated for illicit activity, and the global governing body's reputation has been irrevocably damaged.
State of play: This World Cup's biggest controversy is the Gulf nation's human rights record.
What they're saying: 54% of Americans say that FIFA shouldn't have awarded the World Cup to Qatar, according to a new Seton Hall University poll.
Additional findings from this latest Sports Poll are available at "Majority of Americans Say World Cup Should Not Be Held in Qatar" and "40% of U.S. Population Say They Plan to Watch World Cup."
Categories: Business