Wednesday, January 20, 2021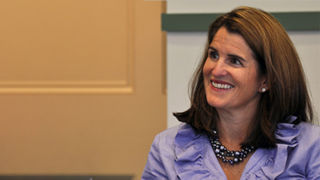 Mary Pat Christie, M.B.A. '92, successful investment banker and former New Jersey First Lady, is the guest speaker for the Stillman School's Spring 2021 Integrity & Professionalism Convocation. 
Open to the entire Seton Hall community, the convocation will be held on Wednesday, February 3 from
6:30-7:30 p.m. via Microsoft Teams and will be recorded; register for the event here. 
Entitled "From Wall Street to the Governor's Mansion and Life After: A Conversation with Mary Pat Christie," she will discuss her transition from Wall Street to the governor's mansion, the importance of networking and building relationships to a successful career, ethical challenges faced and how she resolved them, as well as changes in the business world in the aftermath of the pandemic.
Wall Street Trader
Mary Pat Christie is a respected leader in the high yield and distressed debt capital markets industry where she excelled at placement and structuring of debt for highly levered businesses. Through this experience she has become knowledgeable in many industries including healthcare, energy, utilities, aerospace, automotive, telecommunications, retail, restaurants, casinos and hospitality, steel and manufacturing businesses. Currently she is a partner in the Hampshire/Christie Opportunity Zone Fund, where she is seeking to raise 150MM of equity capital to invest in opportunity zone projects along the Northeast corridor, primarily in New Jersey. Prior to her work as partner in the Hampshire/Christie Opportunity Zone Fund, Mary Pat Christie co-founded the Mendham Capital Management firm and acted as the managing director at Angelo, Gordon & Co, a specialty investment firm. 
First Lady
Mary Pat's unique experience as First Lady of New Jersey has allowed her to see public policy up close and personal. Through this office she has advocated for a better path for our citizens who are re-entering the work force after a period of incarceration. These collaborative efforts, along with a better approach to drug and alcohol addiction for our prisoners, has resulted in a lower prison population and a reduction in the recidivism rate from 37% in 2010 to 31%, in most recent studies.
The highlight of Mary Pat's philanthropic work is chairing The Hurricane Sandy New Jersey Relief Fund. Mary Pat launched this organization in the aftermath of the second worst natural disaster in our country's history. She enlisted the help of the corporate community, to personally raise over $41 Million and distribute 95% of the money collected to programming and services. The NJ Grantmaker Report cited HSNJRF as the #1 funder of NJ Sandy recovery efforts. Additionally, Mary Pat founded the non-profit foundation, New Jersey Heroes, which recognizes and promotes everyday New Jersey citizens active in community service. She also served as President of the Drumthwacket Foundation, a non-profit organization that helps maintain the NJ Governor's Residence. She currently serves on the board of Hackensack Meridian Carrier Clinic in Skillman NJ and Orexo, a specialty pharmaceutical company headquartered in Uppsala, Sweden. Mary Pat is also a board member of Restaurant Technologies, a company specializing in providing efficiency in cooking oil distribution.
Wife and Mother 
Mary Pat received her M.B.A. from Seton Hall University and her undergraduate degree in finance from the University of Delaware. She lives in Mendham, NJ, with her husband Chris Christie, J.D. '87, whom she has been married to for 33 years. They have four children.
As a speaker at the Stillman School Integrity and Professionalism Convocation, Mary Pat Christie joins an impressive list of business, cultural and political leaders including, her husband former New Jersey governor Christopher Christie, J.D. '87; Betty Manetta, CEO and president of Argent Associates; Denise Morrison, CEO of Campbell Soup Company; John Nash, Nobel Laureate winner; Carla Harris, managing director at Morgan Stanley; Eric Casaburi, founder & CEO of Retro Fitness; Tim Gunn, chief creative officer at Liz Clairborne, Inc. and mentor on Bravo TV's Project Runway; Cory A. Booker, mayor of Newark; and Mary Higgins Clark, author and entrepreneur.