High School Entrepreneurs! You are Invited to Compete for $50,000 in Seton Hall University's Pirates Pitch Startup Competition
Tuesday, September 12th, 2023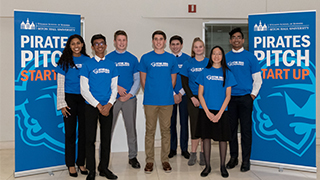 Teen Entrepreneurs Compete in the Seton Hall University Pirates Pitch for High School Students Contest
Are you a high school student who dreams of launching a business? Or are you already a high school entrepreneur with your own venture? If your answer is YES to either of those questions, you are invited to participate in the ninth annual Pirates Pitch Competition for High School Students, hosted by the Center of Innovation and Entrepreneurship in the Stillman School of Business. Student finalists will compete on Friday November 17 from 3 p.m. to 6 p.m. EST for more than $50,000 in cash prizes and scholarships to attend Seton Hall University.
The "Shark Tank" style competition offers high school students an engaging opportunity to build entrepreneurship skills, including learning how to recognize viable business opportunities and deliver a compelling startup pitch. The event takes place during Global Entrepreneurship Week 2023, a worldwide celebration of entrepreneurship that runs from November 13 – 19. Last year, the Pirates Pitch Competition for High School Students received 180 submissions from 15 states and five foreign countries.
"Today's high school students are innovative and possess a passion for entrepreneurship, and we look forward to a very exciting competition," said Susan Scherreik, founding director of the Center of Innovation and Entrepreneurship. Scherreik noted that a new survey by Junior Achievement USA showed that three in five American teens (60%) would be more interested in starting their own business than having a traditional job. "Students who practice entrepreneurship in high school and college get a head start on learning how to make their startup dreams a reality," she added.
High school sophomores, juniors, and seniors with a 3.0 GPA or better are eligible to submit their original business proposals that describe an innovative product or service in 350 words or less. Interested students should submit an individual application by Friday, October 27, 2023.
The judging panel, consisting of faculty members and successful alumni entrepreneurs, will review applications and invite 10 finalists to participate in the competition, in which they will deliver a five-minute pitch presentation followed by a five-minute Q&A session during which they will receive feedback from the judges. The competition will be held on the university's South Orange campus. All parents, teachers, classmates and family members are invited to watch and cast a vote for their favorite finalist for the Audience Choice Award.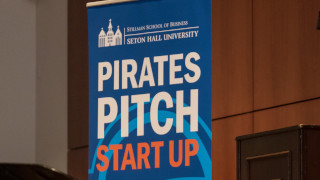 The top contestant will receive a $2,500 cash award and a $10,000 tuition scholarship. The second-place winner will receive a $1,000 cash award and a $6,000 scholarship. All other finalists will receive a $4,000 scholarship ($1,000 annually). In addition to recognizing and rewarding all 10 finalists with a tuition scholarship, the competition will present a $300 Audience Choice Award.
The Pirates Pitch Competition for High School Students helps to develop and showcase entrepreneurial skills that align with the World Economic Forum's list of the top skills that professionals need to thrive, including complex problem-solving, critical thinking, and emotional intelligence. The competition also introduces students to the Stillman School of Business, its Center of Innovation and Entrepreneurship, and the nationally-ranked Center for Leadership Development within the Buccino Leadership Institute.
For more information and to apply, visit Pirates Pitch Competition for High School Students.
Categories: Business