Seton Hall Master's Accounting Programs Ranked in Top 5 for ROI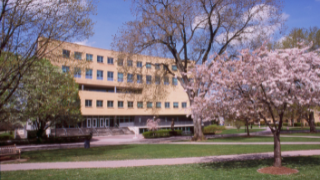 In a recent report, graduates of Seton Hall's master's accounting programs have the fifth highest return on investment (ROI) among all accounting programs in the U.S., ranking SHU graduate accounting programs #1 in New Jersey.
Taking into account a student's monthly earning and monthly debt payments, Georgetown University Center on Education and the Workforce analyzed data from the U.S. Department of Education College 2022 Scorecard. The report — The Most Popular Degree Pays Off: Ranking the Economic Value of 5,500 Business Programs at More Than 1,700 Colleges* — finds that while graduates' earnings and federal student loan debt vary by institution and degree level, the majority of business programs lead to median earnings that are roughly 10 times graduates' debt payments two years after program completion.
The Stillman School of Business offers an M.S. in Professional Accounting for those who have a bachelor's degree in accounting and an M.S. in Accounting for non-accounting majors (online and in-person), as well as an M.B.A. in Accounting.
"The rankings demonstrate the efforts our faculty undertake to prepare students for the workforce, reflecting our commitment to applied learning by 'transforming concepts into business practice,'" said Joyce Strawser, Ph.D., Dean of the Stillman School of Business. "Our students also benefit greatly from the engagement of our dedicated alumni, who advise us on industry trends, provide feedback on programs and curriculum, teach and guest lecture in our classes and serve as important professional connections for our students."
Reflecting the importance of connecting our programs to practice, Stillman's accounting faculty group includes both scholarly academics with doctoral degrees and instructors recruited from successful professional careers, who bring a wealth of knowledge and important contacts into the classroom. The school is proud to report the highest percentage of students from a graduate accounting program in New Jersey passing one or more parts of the CPA exam.
In addition, the Stillman School's accounting programs are among the elite group accredited by the Association to Advance Collegiate Schools of Business (AACSB International) – the highest standard of achievement for business schools, which is earned by only 5 percent of schools worldwide granting business degrees at the bachelor's level or higher. Stillman is the only school in northern New Jersey with both business and accounting accreditation – making it one of only 188 institutions worldwide to hold an additional, specialized AACSB accounting accreditation.
Dean Strawser, who is also a member of the accounting faculty, notes that "there has never been a better time to embark upon an accounting career." The 2021 Trends in the Supply of Accounting Graduates and the Demand for Public Accounting Recruits, a biennial report issued by the American Institute of Certified Public Accountants, highlights the current employment environment as one of stable or increasing demand for professionals with a decreasing pipeline of candidates. The result, as firms compete to secure the best talent, is an increase in compensation and benefits for those who pursue a career as an accounting professional.
"Many people think that you have to have a bachelor's in accounting to earn a master's degree. But our graduate students come from many backgrounds – some have previously earned accounting degrees and many have not – and move on to start careers with the largest global accounting firms," said Department Chair Mark P. Holtzman, Ph.D., CPA. "And our hybrid learning model accommodates students wherever they are – in the classroom or online. We work with each student individually to set up course plans that will help them to meet their career goals."
The Georgetown University Center on Education and the Workforce (CEW) is a research and policy institute within Georgetown's McCourt School of Public Policy that studies the links between education, career qualifications, and workforce demands.
* Anthony P. Carnevale, Emma Wenzinger, and Ban Cheah. The Most Popular Degree Pays Off: Ranking the Economic Value of 5,500 Business Programs at More Than 1,700 Colleges. Washington, DC: Georgetown University Center on Education and the Workforce, 2022. cew.georgetown.edu/business.
Categories: Business