Entrepreneur Hall of Fame Induction
Wednesday, February 15th, 2023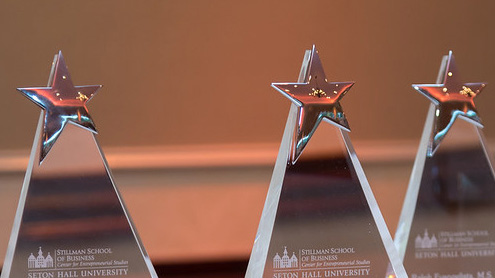 On Wednesday, March 29, 2023, the Seton Hall University community and alumni entrepreneurs and friends from across the country will come together to honor three of the University's most successful innovators and changemakers: Gabino Roche '98, CEO and founder of the finance technology company Saphyre, and his brother Stephen Roche, president and co-founder of Saphyre; and Pravina Raghavan, M.B.A. '01, director of Hollings Manufacturing Extension Partnership, a national network of small and mid-sized manufacturers.
Hosted by the Stillman School of Business's Center of Innovation and Entrepreneurship, the 2023 Entrepreneur Hall of Fame induction reception will also honor the latest recipient of the Emerging Entrepreneur Award: Paul Sannitti '13, owner and operator of BGR Burgers Grilled Right in South Orange and Bloomfield, N.J.
"This exciting event commemorates the vibrant entrepreneurial spirit in evidence in the Seton Hall University community," said Susan Scherreik, founding director of theCenter of Innovation and Entrepreneurship. "We invite you to join us for an evening of fun, food and philanthropy that supports student entrepreneurs, startups and an array of entrepreneurship education programs that are changing lives."
The reception will take place at the newly renovated University Center on Seton Hall's South Orange campus. For information on tickets and sponsorships, visit here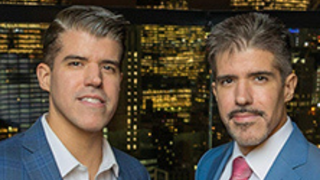 Gabino and Stephen Roche
Hall of Fame Inductees Gabino '98 and Stephen Roche
Following successful corporate careers in finance and technology, twin brothers Gabino and Stephen Roche launched Saphyre, an innovative and disruptive financial technology (fintech) venture, in 2017.
Since then, the Stillman School-educated Gabino and his brother Stephen have embarked on a nonstop mission to revolutionize the way brokerage firms, custodian banks, investment managers and other financial companies manage the manual-intensive process of managing client trading accounts. Saphyre's key to success is its patent-approved AI technology that digitizes and speeds the pre-trading space, while providing trading and post-trade benefits for financial institutions at the same time. The company, which holds 105 patents, has dramatically increased the efficiency of back-office operations that formerly were accomplished with faxes, emails, phone calls and spreadsheets. Saphyre, based in Hoboken, N.J., secured $18.7 million in Series-A funding in 2022, and clients and investors include JPMorgan Chase & Co. and Blackrock, Inc.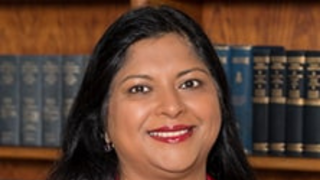 Pravina Raghavan
Hall of Fame Inductee Pravina Raghavan, M.B.A. '01.
Pravina Raghavan serves as the director of the Hollings Manufacturing Extension Partnership (MEP) Program at the National Institute of Standards and Technology. Since 1988, MEP's industry experts have worked side-by-side with their partners in the public and private sectors to strengthen communities and U.S. manufacturing.
Raghavan has more than 20 years of experience providing advisory services to businesses in the startup, growth, expansion and maturity phases of development. She most recently served as executive vice president in the Division of Small Business and Technology Development for Empire State Development, the New York State economic development agency. In that role, she led and managed the New York Manufacturing Extension Partnership, which provides more than $10 billion in economic impact for the state, created and implemented the $100 million New York Forward Loan Fund and Empire State Digital resource for COVID-19 small business recovery, and designed and implemented the state's $800 million COVID-19 Small Business Recovery Grant Program.
"We especially look forward to recognizing the achievements of this year's Hall of Fame inductees," said Scherreik. "Gabino and Stephen Roche, and Pravina Raghavan, have pursued different entrepreneurial paths, but they share an impressive record of success and a strong love of alma mater. They are inspiring role-models for our students, whether the students seek to launch a startup company or become 'intrapreneurs' who are innovators in their corporate jobs."
The Hall of Fame is also honoring Emerging Entrepreneur Paul Sannitti '13, who graduated from the Stillman School of Business with a management degree and a certificate in entrepreneurial studies. During high school and college, Sannitti worked at a local Friendly's Restaurant franchise, advancing from busboy to assistant store manager. After graduation, Sannitti knew exactly what he wanted to do: open his own franchise restaurant. Today, he is the owner and operator of two BGR Burgers Grilled Right restaurants. He opened his first outlet in December 2016 in South Orange, N.J. Two years later he launched a second BGR Burgers Grilled Right in Bloomfield, N.J.
"I chose South Orange to start my business because of my connection to Seton Hall University," Sannitti said. "I had a vision of creating a great burger spot that was connected to both Seton Hall and the local community." Sannitti said he selected his second location to participate in Bloomfield's downtown community revitalization.
Launched in 2003, the Center of Innovation and Entrepreneurship within Seton Hall's Stillman School of Business serves hundreds of undergraduate and graduate students each year from across all disciplines. The Center offers entrepreneurship majors and certificate programs, scholarships and start-up grants, pro-bono professional services for emerging entrepreneurs, and dozens of extra-curricular activities and networking opportunities, including the BIG EAST Startup Challenge, which it is hosting in 2023. Past Hall of Fame inductees include such esteemed alumni as Stephen Waldis, founder and chairman of Synchronoss Technologies, Betty Manetta, president and CEO of Argent Associates, and Bryan Jakovcic, president of Fusion Health. For more information and to learn how you can get involved, visit the Center's website.
Categories: Business