Graduate
(Doctor of Philosophy), Ph.D.
Counseling Psychology
The overarching goal of the Ph.D. in Counseling Psychology, offered through Seton Hall University's College of Education and Human Services is to prepare counseling psychologists in the scientist-practitioner model to assume roles as responsible, competent members of the professional psychological community with an understanding of both the value of research and applied practice. The program is accredited by the American Psychological Association (APA) through its Office of Program Consultation and Accreditation (750 First Street NE, Washington, D.C. 20002-4242; Phone: 202-336-5979) since October 22, 1999.
The Program
The Ph.D. in Counseling Psychology is a 97-credit, full-time program. All students follow a defined sequence of training in theory, multicultural competence, research and practice. Consistent with the scientist-practitioner model, students are involved in research projects throughout their training. This begins in the first year, with an assignment as a research assistant to a faculty member and culminates with the design, data collection and analysis of at least one independent research project in addition to the dissertation.
Students have a variety of opportunities to engage in leadership activities and community outreach including involvement in professional organizations and the Counseling Psychology Student Association. First-year students complete practicum placements as a cohort working with populations across the lifespan. Second through fourth year students apply for externships in various settings within the areas including college counseling centers, hospitals, and community mental health centers. The program will culminate with a full-time internship during the fifth year.
Advanced Study in Counseling Psychology
Students in Seton Hall's Ph.D. program in Counseling Psychology are involved in advanced study of therapeutic approaches that will be most effective for individuals with mental health concerns.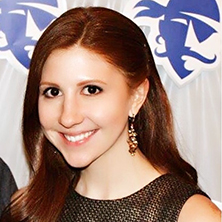 "The Counseling Psychology Ph.D. program has provided me with the competencies and training to be an effective, self-aware, and multiculturally sensitive scientist-practitioner with the ability to promote advocacy and social justice in a variety of settings."

Lindsay Blevins, M.A.4th Year Counseling Psychology Ph.D. Student
Faculty
The faculty in the College of Education and Human Services are expert researchers and practitioners in teacher and leader preparation as well as professional psychology and family therapy. Many are actively engaged with schools and community agencies, modeling best practices to their students in the university classroom and in the field. Collaboration within departments and across is encouraged with the recognition that supporting and improving the lives of children, families and communities is a complex process.
Take the Next Step
The College of Education and Human Services is dedicated to ensuring that its professional preparation programs are based on essential knowledge, evolving technology, research findings, and reflective practice. Each program is committed to developing collaborative relationships and cooperative efforts with schools, agencies, and institutions so that its efforts remain linked to the world of practice and research, and meet the needs of communities. The College is nationally accredited by three professional associations: APA, COAMFTE, and CAEP.
Contact Us
Pamela Foley, Ph.D.
Program Director
(973) 275-2742
Diana Minakakis
Director, Office of Graduate Admissions
(973) 761-9668
Loading Ph.D. in Counseling Psychology...