Graduate
Master of Science (STEM M.S.B.A.)
Business Analytics (Online)
From health and science to retail and finance, big data is driving and changing every aspect of our world today — especially in business. Advanced technology now allows companies to gather and store massive amounts of data more easily than ever before. But businesses are all facing the same dilemma: how to harness that data once they have it. 
All over the globe, companies are searching for leaders who can use data to solve problems strategically and make effective business decisions. Our MS in Business Analytics (STEM MSBA) prepares you to do exactly that. Offering equally solid foundations in both business processes and data analytics, our program develops managers and executives whose skills will be in high demand. Graduates are as comfortable communicating with managers as they are with quantitative analysts. 
STEM Designated Program
By 2028 it is estimated that there will be more than a million jobs in the STEM field. In preparation, this STEM designated program will equip you to utilize technology, data and business analytics to make effective business decisions and solve complex business problems.
The STEM designation offers an additional benefit by allowing international students to apply to extend their 12-month optional practical training (OPT) by an additional 24 months.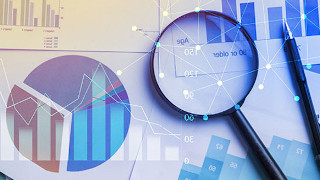 Annual Distinguished Lecture Series in Business Analytics
Featuring four industry leaders, the 2nd annual lecture series focused on leveraging analytics and associated applications to improve business impact and financial outcomes. The use of data-driven tools in the decision-making process and the impact of these on people and policymaking was also discussed.
Seton Hall University M.S. in Business Analytics
Learn to use data to solve problems strategically and make effective business decisions. Online program.
"Our Master's in Business Analytics offers students a very applied, hands-on approach to learning. They'll take actual data, perform real analyses on it, and learn how to communicate their findings to management. When they graduate, our students are ready to hit the ground running wherever they choose to work."

Viswa ViswanathanPh.D., Associate Professor
Offered entirely online, our 30 credit program balances courses in business processes with courses in exploratory and predictive analytics. Ten three-credit courses cover everything you need to know — from using R/Python, JSON/XML and SQL, to examining business processes through their data models, to extracting meaning from big, unstructured data. 
You'll complete work and watch lectures independently at the times of day that work best for you. In addition, because the Stillman School values community, a weekly, synchronized recitation session will allow you to discuss problems and brainstorm solutions with your instructors and fellow students.
The MSBA program, which can be completed in 18-24 months, culminates with a semester-long capstone project that places you on a two-person team to tackle real problems using everything you've learned throughout the program.  
Core Courses (21 credits) 
Introduction to Data Analytics and Business Intelligence
Databases and SQL
Business Processes and Data Models
Exploratory Data Analysis and Data Visualization
Predictive Analytics
Big Data Analytics
Capstone Project 
Elective Courses (9 credits) 
Management Science
Deep Learning
Text Mining
Project Management
In addition, the program offers electives in management science, deep learning, text mining and project management. 
MSBA Distinguished Advisory Board Members
Steve Karl – Chief Fulfillment Officer, Sterling
Henry (Hank) Knipper – Retired Partner, KPMG  
Bill Maloney – Partner, Media & Entertainment Advisory Services, EY
Patrick McCreesh – Co-Founder, Simatree
Ramesh Natarajan – Software Engineer, Cloud AI Organization, Google
Wayne Shurts – Former EVP and Chief Technology Officer, Sysco
Marc Rind – Vice President, Software Development for Data and Analytics, Fiserv
Dr. Andreas Oranje – Vice President, Assessment and Learning Technology Research and Development, ETS (Educational Testing Service)
Jeff Headd – Senior Director, Commercial Data Sciences, The Janssen Pharmaceutical Companies of Johnson & Johnson
Jeff Noto – Senior Vice President, Business Analytics, Corporate FP&A, Verizon
Dr. Kimya Lee – Executive Director, Strategic Workforce Planning & Analysis, Office of the Chief Human Capital Officer, U.S. Department of Homeland Security
Alejandra Puesan – Vice President of Digital Analytics, NBCUniversal Media
Lessons Learned from VPs of Analytics
Moderated by Jay Liebowitz, this AMCIS PDS session focuses on "Lessons Learned in Analytics/AI from Senior Executives." Leibowitz is Seton Hall's M.S. in Business Analytics Program Co-Director.
Faculty Listing
Many of our full-time faculty have attended top Ph.D. programs and are in demand as lecturers, consultants and media experts. Stillman School faculty provide an academic experience characterized by high faculty-student engagement, often partnering with students on research and other projects. 
Request More Information
The Stillman School of Business offers an ethics-centered graduate education that "transforms concepts into business practice." We are among the top business schools worldwide that have achieved both business and accounting accreditation from The Association to Advance Collegiate Schools of Business (AACSB). In addition, the Stillman School has received national recognition by Poets & Quants, The Princeton Review and US News & World Report.  
Loading M.S. Business Analytics...