2007 Hall of Fame Honoree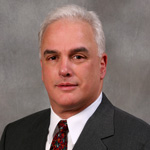 President
American Wear, Inc.
A 1981 graduate of Seton Hall University, Auriemma is currently the president of American Wear, Inc. American Wear is a supplier of industrial work clothing, business casual apparel and school uniforms. He launched the business in 1984, with his father, Nick, who was a 33-year veteran of the uniform supply business. A business that began in their home with two delivery trucks, now has 100 employees, services over 2,400 clients a week, and is one of the largest independent uniform suppliers in the United States. American Wear is notable for their high retention rate of both customers and employees.
In addition to being president of American Wear, Inc., Auriemma is the general partner of Centerway Partners, a real estate development and investment firm with an emphasis on the rehabilitation of commercial properties in New Jersey's urban areas. The partnership's efforts have contributed to the creation of jobs in these urban centers. In 2007, Auriemma was chosen as a New Jersey finalist for the Ernst & Young Entrepreneur of the Year award. He also was honored by the City of East Orange Democratic Committee for his outstanding community service efforts and the New Jersey Water Environment Association for progressive water treatment and conservation programs implemented at American Wear.
A Stillman School graduate with concentrations in accounting and marketing, Auriemma is a certified public accountant who spent four years at Coopers and Lybrand prior to co-founding American Wear. He is a member of the American Institute of Certified Public Accountants, Notre Dame Church and he has been active in fund raising for youth ice- hockey programs.
He and his wife, Debra, have three school-aged children.