Seton Hall Esports Hires New League of Legends Coach
Thursday, November 3rd, 2022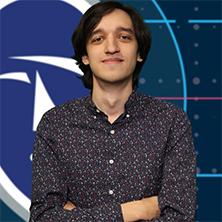 Seton Hall University is proud to announce that Dylan "RealPrismsword" Ladd, has been selected as the Seton Hall League of Legends Coach. The onboarding of a dedicated coach is the second in the program's history and reaffirms Seton Hall's commitment to engaging students and remaining one of the most competitive programs in the nation.
Mr. Ladd has carved a niche within the League community by hosting Platinum vs Silver coaching sessions. Mentees under Ladd reached higher ranks, making impressives climbs from Bronze to Challenger. Ladd also spent years writing for DOT ESPORTS, creating guides and breakdowns on changes within League of Legends and other games as well as breaking down new champion releases.
When asked about the opportunity to work with the Seton Hall University League of Legends team, Ladd said:
"To be the first official League of Legends coach for Seton Hall is a tremendous honor. I am ecstatic to work with such wonderful and proven players as I aim to make them improve beyond their perfect record from their last Big East performance. Aside from such a strong starting core of players, I also want to give equal focus to our up and coming sub squad with our new players. That way after the wondrous senior players within our main team graduate, we can still have a strong roster that will continue to dominate the Big East scene for seasons to come.

Seton Hall has such a strong, state of the art, infrastructure for collegiate esports. So, I look forward to emphasizing and showing off the strength of that quality through our strong 10-man roster as the season progresses."
Outside of League, Ladd has continued to display his competitive skill in the Legends of Runeterra scene by reaching Masters every single season all while participating in every single Seasonal Championship, this culminated in a Top 16 finish in the Americas Curious Journey seasonal. This competitive edge is a good trait as the squad he will be leading went undefeated in the BIG EAST last season and has only dropped a single series this semester.
For Seton Hall Esports Manager, Victor Gomez, the opportunity to expand the program with now a second Esports Coach marks a new era. "I am incredibly excited to bring on Coach Prism [Dylan Ladd] and add his wealth of knowledge and experience at the various levels of the scene. Prior to this, the League of Legends squad has been volunteer coached by Quinton "QuintonE" Escalante followed by Jacob "NummyWarrior" Black, both alumni of the program and passionate about Seton Hall Esports growth. Both whom have gone on to become successful members of their respective careers. We are both eternally grateful to them and excited for what is to come for the future of the League of Legends team."
To learn more about the Seton Hall esports program, visit www.shu.edu/esports
Categories: Science and Technology