Away From Keyboard: Paulie Santoro
Wednesday, September 29th, 2021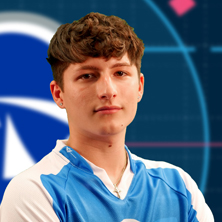 Paulie "Stokelyy" Santoro, a freshman from Hightstown, New Jersey, chose Seton Hall not only to play Rocket League competitively, but to complete a dual-degree B.S. Physics and M.S. Engineering degree in just five years.
When did you start playing Rocket League?
I saw Rocket League on Twitch the day it came out in 2015. I thought it looked really fun and it had to do with soccer so I bought it the next day even though my mom said I could not buy it until next week. She was really mad, but it was worth it. I played Rocket League very casually for a couple months until I took about a year long break before playing again. I really started playing a lot again during Season 3 of ranked in sometime around the end of 2016. Then, things went from there.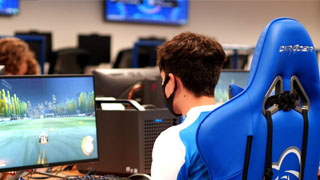 When did you meet your teammates Kevin "Froze" Minch and Antonio "Tone" Riozzi?
Over the summer, I received a Twitter DM from Kevin (Froze) as well as Antonio (Tone) explaining that I could join them on the Seton Hall Rocket League team and play for the school. While I was not entirely sure what I was doing for college, I still ended up playing with Kevin and Antonio in ranked matches, just to feel things out. As my college career at Seton Hall became more realistic, the three of us met in person for the first time at my graduation party. Now, Kevin and I are living on-campus as roommates.
What made you come to Seton Hall?
Believe it or not, I did not only come to Seton Hall to play Rocket League. I have always had a passion for engineering in my blood due to a family-owned engineering business. Seton Hall has an amazing dual degree program that allows me to obtain my B.S. in physics and then my master's in engineering in only five years. Being able to do two things that I love in college was an opportunity that I could not miss.
What are you looking forward to this season?
I am looking forward to taking Seton Hall Rocket League to the next level. On top of winning the Big East and solidifying our school as the best, I want to make a name for the school across the nation in Collegiate Rocket League (CRL). CRL is the biggest college rocket league competition, sponsored by Psyonix themselves, the creators of Rocket League. My goal as well as the team's goal is to obviously win CRL and raise the trophy at a live event with fans which would cement us as the best college rocket league team.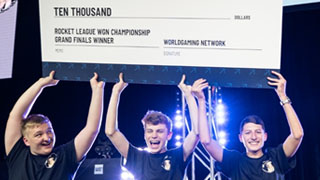 What does your Rocket League timeline look like up until this point?
When I picked Rocket League back up in 2017, I hit the champion rank which was close to the highest rank at the time. This was very surprising to me because, I am not really a gamer. I'm not usually good at the games I play and I usually don't play video games that much. For some reason though, I clicked with Rocket League and happened to be good at it. I kept playing and I hit Grand Champion which used to be the highest rank in the game during Season 5. I started to take Rocket League more seriously knowing that becoming a pro was realistic. I practiced a lot and started competing in tournaments and winning prize money. Sometime in 2018 I got noticed and received a message on Twitter from "Satthew", a professional Rocket League player for Spacestation Gaming. He explained that I could be their substitute for Rocket League Championship Series (RLCS) Season 7, which would make me a professional since RLCS is the official pro league. I took the opportunity and enjoyed it until I wanted to branch out and make my own team. This is when I made my own team called Bull Send with Robert "Comm" Kyser and Zach "Dino" Moffatt. A turning point in my career as well as my life came with this team when we qualified and won $10,000 at a tournament in Toronto. This is when I realized that this whole esports thing is real. Another accomplishment of mine includes becoming #1 ranked as well as the first ever person in the world to reach the new highest rank in Rocket League called Supersonic Legend in September 2020 in standard. In addition to playing at Seton Hall, I also play professionally in RLCS under RBG Esports.
What is your favorite thing about Seton Hall so far?
My favorite thing about Seton Hall so far is the people. Everyone is extremely welcoming and fun to be around. I can just about walk up to anyone and spark a conversation so easily. I've been having the time of my life so far.
Any words for the fans?
If there is anything I could leave the fans with, it would just be that esports is getting bigger and better every day and our rocket league team at Seton Hall is going to be the best. Make sure to support us wherever and whenever you can and let's hope that live in-person events come back soon so we can have some fans pop out to matches. I owe a huge shoutout to Victor, Seton Hall, my teammates, and most importantly my friends and my giant family for all being supportive and giving me this opportunity.
Categories: Athletics, Science and Technology