Summer Internship Program Honors Alumnus
Thursday, June 16th, 2022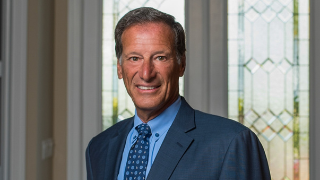 Alumnus James (Jim) Malgieri '82
In honor of alumnus James (Jim) Malgieri '82, Seton Hall University has partnered with Pirum, a UK-based financial services technology vendor, to launch the inaugural Jim Malgieri Summer Internship Program.
This annual program will target rising seniors from Seton Hall's Stillman School of Business to join Pirum at its New York City location for 10 weeks of work, training and career development, with a focus on the company's diversity and inclusion agenda.
"The Stillman School of Business is thrilled about the launch of the Pirum Summer Internship Program honoring our alum James Malgieri '82. We are proud to be a partner in this wonderful program,which unites two organizations in which Jim was truly invested," said Joyce Strawser, Ph.D., Dean. "At Stillman, our primary goal is to develop principled business leaders – individuals who can lead and succeed without compromising their values. Jim was the perfect personification of this type of leader, and he was a fantastic role model for aspiring business professionals. We view the Pirum interns as a testament to Jim's memory, and we will continue to carefully select candidates who will reflect his unwavering commitment to integrity, family, community and faith."
The idea was a collaboration between Pirum, Seton Hall and the Malgieri family, who released the following sentiment: "We were extremely excited when Pirum approached us with the idea of starting this internship program. It is even more special to us that Pirum chose a student from Jim's alma mater. This internship epitomizes what Jim stood for: furthering higher education and giving back to his community. We would like to thank everyone involved with making this idea come to fruition. We are honored and Jim would have loved this!"
Malgieri worked with Pirum as a strategic advisor from 2018-2021. Prior to joining Pirum, Malgieri spent over 34 years in the Securities Industry, retiring in March 2017 as an Executive Vice President, Head of Collateral Management and Segregation at BNY Mellon Markets. He also served on Seton Hall's President's Advisory Group and was honored at the annual Many Are One Alumni Awards in 2017. He and his wife Victoria were profiled in Seton Hall Magazine in 2018 when they established the James '82 and Victoria Malgieri Endowed Scholarship.
Per Pirum, Malgieri always looked for candidates who thought creatively, brought forth solutions to problems, and strived to be difference makers in the workplace and the communities in which they live – all which aligns with the qualities and values inherent to Pirum.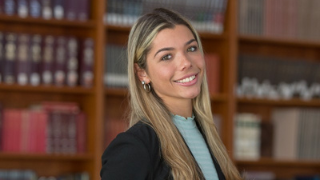 Rising senior Jennifer Giron was chosen as the first intern for the Jim Malgieri Summer Internship Program.
For Summer 2022, rising Seton Hall senior Jennifer Giron, who is double majoring in Finance and Information Technology and minoring in Wealth Management, was chosen as the first intern. Giron is also a member of the University's Division 1 Volleyball team.
"I am so honored and proud to be the first intern of the Pirum/Jim Malgieri summer internship program," said Giron. "I cannot wait to learn and put forth my skills this summer with such an amazing team. I would like to thank Dean Strawser and [Assistant Dean] Mark Schild for extending this special opportunity to me. It is truly a privilege as I aspire to carry similar qualities as Jim Malgieri did throughout his life in my own future career."
"Jim was a fantastic mentor and inspiration to me personally; the whole team, including me, miss him greatly," said Phil Morgan, CEO at Pirum. "In light of this and to honor his legacy, I am proud to launch this initiative and welcome Jennifer to the Pirum team."
About Pirum Systems
Pirum Systems was founded in June 2000 with the objective of providing advanced, centralized and secure reconciliation services for financial market participants. All Pirum's services are software as a service and provide a secure processing hub which seamlessly links market participants together, allowing them to electronically process and verify key transaction details. Financial institutions from around the world have responded to Pirum's creative approach by joining the secure on-line community. They have increased processing efficiency, reduced operational risk and improved profitability by using Pirum's services to reduce manual processing. By combining an in-depth understanding of both the Securities Finance industry and IT, Pirum has created a set of highly innovative and flexible services which are tailored to fully support the complexities of the underlying business processes. Integration with Pirum's services could not be easier. Data feeds are accepted in virtually any form at, facilitating the re-use of existing data extracts. This flexibility results in a fast, straightforward and low-cost implementation. No additional hardware, software or proprietary network connections are required. Pirum servers perform all the necessary data processing and user access is provided via secure web pages over the Internet. www.pirum.com