Stillman School Deans Contribute to New Book Spotlighting Best Practices in Assessment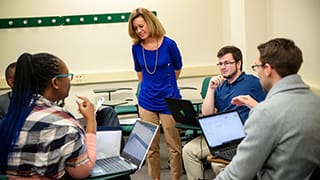 Joyce Strawser, Ph.D., dean of the Stillman School of Business, and Associate Dean Leigh Onimus, J.D., were among a select group of educators who contributed a chapter to the book, Exemplars of Assessment in Higher Education: Diverse Approaches to Addressing Accreditation Standards.
Published by the Association for the Assessment of Learning in Higher Education, the book spotlights institutions that are doing assessment in a manner that may serve as models for others, including contributions from members of the Middle States Commission on Higher Education (MSCHE).
MSCHE President Heather F. Perfetti, J.D., Ed.D., who wrote the foreword, noted that "While assessment may feel to constituents like an activity of accountability simply for accreditors, it is most appropriate to approach assessment as an activity of accountability for students. Assessment results that improve institutional effectiveness, heighten student learning, and better align resources serve to make institutions stronger for the benefit of their students, and those results also serve the institution or program well during the holistic evaluation required through accreditation."
"We are so grateful for our faculty's enthusiastic engagement in the assurance of learning process. The faculty's dedication to improving the learning experience and our students' educational outcomes truly differentiate the Stillman School. We also greatly value the feedback from our colleagues across campus who contribute to outcomes evaluation and the implementation of curricular improvements," said Dean Joyce Strawser.
"It was an honor to be invited to contribute to the book and share highlights about the School's Undergraduate and MBA assessment processes," said Associate Dean Leigh Onimus. "Our assessment processes and more importantly our students benefit from the significant engagement of our alumni who provide on-the-spot feedback that contributes to their learning and prepares them for industry."
Both Dean Strawser and Associate Dean Onimus have a wealth of experience in business school accreditation and developing learning outcomes assessment programs.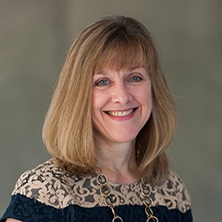 A noted expert in the field, Strawser has frequently provided advice to business schools seeking to develop learning outcomes assessment programs and has made numerous conference presentations on the subject and business school accreditation. She is currently a member of the Association to Advance Collegiate Schools of Business' (AACSB) Initial Accreditation Committee and Board of Directors. She is one of 16 business school deans across the world to serve on the AACSB's Business Accreditation Task Force, which was charged with "reimagining" business school accreditation.
Onimus oversees the Stillman School's undergraduate assessment process and has shared responsibility for the School's MBA assessment process. She sits on the University's assessment steering committee and served in a leadership capacity on the University's Middle States Accreditation Committee. Externally, she has presented at the AACSB Assessment Conferences and for many years has provided guidance to schools on matters related to outcomes assessment.
The book covers a broad array of topics and is organized into four sections: Student learning and assessment; student learning assessment from a disciplinary perspective; faculty engagement and assessment focus; and institutional effectiveness and assessment, with a focus on strategic planning.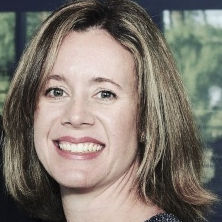 The chapter contributed by the Stillman deans is on "Elevating Assessment Processes Through Stakeholder Engagement." It details how assessment programs can be greatly enriched through a focus on engaging a variety of relevant stakeholders. In the Stillman School's example, three key stakeholder groups are discussed:
Engagement of External Stakeholders (Alumni and Industry Professionals)
Engagement of Business Faculty
Engagement with Colleagues Across Campus
Strawser and Onimus conclude that "the benefits experienced are significant and extend well beyond the domain of assurance of learning."
To learn more or purchase a copy of the book, visit Stylus Publishing. All proceeds will benefit the Association for the Assessment of Learning in Higher Education.
To learn more about the nationally recognized Stillman School of Business, the first private school in New Jersey to earn accreditation from the Association to Advance Collegiate Schools of Business, visit the School's website.