High School Pirates Pitch Finalists Face Off in Virtual Entrepreneurship Competition
Friday, November 13, 2020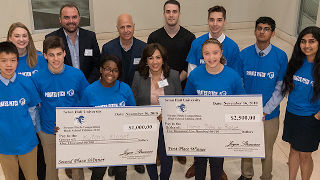 Eleven high school entrepreneurs dreaming of launching their own start up or receiving support for a fledgling businesses will virtually compete as finalists in the sixth annual High School Pirates Pitch, sponsored by the Stillman School of Business and its Center for Entrepreneurial Studies from 3 to 6 p.m. on Friday, Nov. 20. To join the live event click here »

The competition celebrates Global Entrepreneurship Week 2020, which takes place from Nov. 16 - 22.
The young entrepreneurs, who will face off in a "Shark Tank" style competition, have passed the first hurdle to qualify for more than $50,000 in prizes and tuition scholarships to the University. Finalists have been chosen from a field of 180 high school sophomores, juniors and seniors from 18 states and nations around the world, including Canada, Dubai, India, Nigeria, Singapore, Thailand and Turkey. They successfully submitted original business proposals describing an innovative product or service in 350 words or less. The students will present their startup ideas in five-minute presentations to an independent judging panel of faculty members and successful alumni. The University community and the public are invited to watch these pitches and cheer for their favorite contestant in this live-streamed event, which will include a five-minute Q&A session and feedback from the judges.
"The top 11 students selected as finalists are extremely creative, innovative and entrepreneurial. Their projects are wide-ranging, including for-profit ventures in cybersecurity, skin care, soccer, stock market investing, college cafeteria reviews and sports card trading. Some of the students have focused their efforts in "social entrepreneurship," employing entrepreneurial skills and knowledge to help their communities and change the world. One student has an app idea to help first generation college students, and another is helping raise funds for food banks to include allergy-free offerings. Several of the students have already launched their businesses and are operating ventures," said Susan Scherreik, founding director of the Center for Entrepreneurial Studies in the Stillman School of Business.
Entrepreneurial students are talented, passionate and receive crucial lessons in business nimbleness, flexibility, innovation and creativity, especially valued skills in today's business climate, which has been rocked by the unprecedented COVID-19 global health crisis, explained Scherreik. She shared that several of the finalists have been developing their startup projects in their high school entrepreneurship courses, as entrepreneurship is increasingly becoming a popular business offering in high school as well as in the university curriculum.
All qualifying finalists will receive at least $4,000 in tuition scholarships to attend Seton Hall. The top finalist will receive a $2,500 cash award and a $10,000 tuition scholarship. The second-place winner will receive a $1,000 cash award and a $6,000 scholarship. There will also be an Audience Choice Award of $250 to a finalist virtually selected during the event by parents, teachers, classmates and friends.
This year's finalists include:
Anthony Ambrose, a senior at Saint Augustine Preparatory School from Moorestown, NJ - Business Startup Idea: TCCR – The College Cafeteria Review
James Brickman, a senior at Don Bosco Prep from Wyckoff, NJ - Business Startup Idea: Harvest Capital
Nyla Cheeseboro, a sophomore at East Orange STEM Academy High School from East Orange, NJ - Business Startup Idea: Slay Baby Slay
Theodora Exilus, a senior at Mount Saint Dominic Academy from Orange, NJ - Business Startup Idea: Charcuterie Chix
Caelin Foley, a senior at Delcastle Tech High School from Wilmington, DE - Business Startup Idea: First2College
William J. Milligan, a senior at Cherry Hill High School West from Cherry Hill, NJ - Business Startup Idea: Card Capital
Pratham Pilli, a junior at Montville Township High School from Montville, NJ - Business Startup Idea: Shard
Paul Scalzo, a junior at Saint John Vianney High School from Fairfield, NJ - Business Startup Idea: Business Defense Solutions
Emily Shaw, a junior at West Essex Senior High School from Fairfield, NJ - Business Startup Idea: UpCycle
Shreya Shivakumar, a senior at John P. Stevens High School from Edison, NJ - Business Startup Idea: Nourish America
Owen Thorpe, a senior at Horseheads High School in Horseheads, NY - Business Startup Idea: Soccermetrics
The prominent judging panel includes Stillman business faculty: Ruchin Kansal, associate director of the Buccino Leadership Institute, and an expert in business innovation in BioPharma; Christine Fowler-Phillips, entrepreneurship and management expert, specializing in corporate and personal branding as well as diversity and inclusion and the CEO/Founder of Discover Your Best Self LLC; and Ben Lowe, entrepreneurship, finance and supply management expert and co-founder of five startup ventures. Also on the judging panel is Alissa Lopez, M.B.A. '19, CEO and Founder of FamiliesDo Inc., Founder of the Family Balance Planner, and first-place winner in the Seton Hall collegiate Pirates Pitch competition.
Seton Hall's High School Pirates Pitch helps develop and showcase entrepreneurial skills that align with the World Economic Forum's list of the top skills that professionals need to thrive in 2020, including complex problem-solving, critical thinking, and emotional intelligence. The competition also introduces students to the Stillman School of Business, its Center for Entrepreneurial Studies, and its nationally-ranked Center for Leadership Development within the Buccino Leadership Institute.
To join the live event click here »
Categories: Business, Campus Life