Doing Business in India: The World's Fastest Growing Economy
Tuesday, October 25th, 2022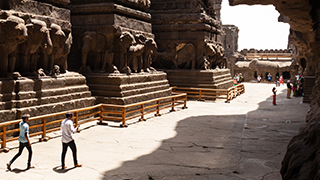 The carriage of Kailashanatha (Sanskrit name for Lord Shiva of the Hindu Trinity), in Ellora caves, completed in 8th Century CE, depicts being carried by all kinds of animals, instead of rolling on the wheels. No picture can do justice to the magnificence and enormity of the carvings.
Our journey to India began late on the night of May 22nd 2022, when I and four other students arrived at Newark International Airport to meet our tour leader, Professor A. D. Amar, and his wife, Sneh Amar, to catch our flight to Chhatrapati Shivaji Maharaj International Airport in Mumbai. It felt a bit surreal because we had only met in person once before and at that time there were about twenty students signed up for the trip. Delays in our departure date, which saw our flight move from February to May, and other issues related to the pandemic slowly chipped away at the class size until only five of us remained. Although it initially felt a bit awkward, we quickly broke the ice.
The Doing Business in India program is intended to give Stillman School and other Seton Hall students exposure to the opportunities, advantages, and risks associated with doing business in a rapidly developing economy like India. Professor Amar also makes it a point to ensure that students come away with an understanding of and appreciation for the rich and fascinating cultures of the subcontinent as well. Among the students, we agreed that both aspects were vital in piquing our interest. While we understood the value of the education we were about to receive, it's hard not to get excited about going to see one of the wonders of the world, the Taj Mahal. I was the only student who had never traveled internationally before in our small group, but most of us had never been to India and saw this as an opportunity to travel to a place we might never have otherwise.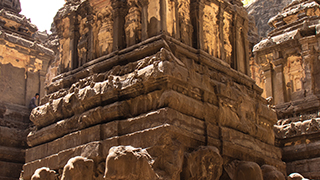 The blazing left wing of the Kailashanatha temple as sunlight drenches the temple.
The pace of the trip was very fast. Our first day in Mumbai consisted of two primary events. We began with a bus tour around the city with our guide Ovis, an extremely charismatic and knowledgeable man who lived in Dharavi, one of the largest and most densely populated slums in Asia. He taught us about the history of the city, its colonial past under Portugal, and the many issues and cultural tensions happening there today within the city's population as a result of the religious strife and terrorism. Despite these issues you can see why the old Portuguese name of Bombai, anglicized "Bombay," translates to a "good little bay." The city being a chain of islands offers a tropical feel along its coastlines and the part of the city we stayed in reminded me of Los Angeles, a comparison I am not the first to make. The second event for the day was lunch with Mr. Messman, an incredibly successful entrepreneur, who got his start in pharmaceuticals before opening a baking company with his daughter who was a chef. Their company now makes millions a year in revenue, and we were given the opportunity to hear about his experiences operating in his country and ask him a few questions. I came away from the conversation with a much clearer image of what demand exists within the Indian market and weary of the real estate corruption. Every day was ended by a shared meal with the whole group which was always a good moment to catch our breaths and debrief before retiring for bed. It was especially pleasurable because, the way Professor Amar has planned the program, the trip cost includes all kinds of costs. He calls it the "Leave Your Wallet Home" trip.
Our remaining time in Mumbai was spent touring different businesses within the greater Mumbai area and talking to the senior management. We visited Ram Manufacturers—an outsourcer of footwear, Shemaroo Entertainment—a multimedia company, and Parle Products—among the largest baked goods manufacturers. At Ram we met with the owner and founder, Mr. Bhasin, and his two sons who all together run the business. They produce footwear for such notable brands as Levi, Old Navy, Calvin Klein, and H&M, as well as their UN award winning non-profit enterprise Green Sole, which recycles unused material in the shoe making process and turns them into shoes for the impoverished children. We were given a tour of their office and production facilities and sat down for tea and lunch with the family where we discussed production scheduling, the difficulty of working on the short turnaround times that fashion demands, and the competitive advantages India has in manufacturing over other nations like China.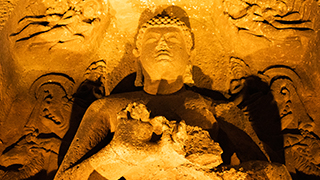 The Buddha in meditation surrounded by angles providing security and gods showering blessings inside a cave temple from the Ajanta site.
Parle is a confectionery and sweets company that claims to manufacture the most popular biscuit or cookie in the world. They have been in operation since nineteen thirty-nine and are sold on every continent around the globe. They sell their classic Parle-G biscuit for only two cents a package. With such low prices naturally most of our questions to them were geared to margins and how they make it work. After a tour of their processing plant the answer became clear—minimal waste, and high efficiency in transformation processes. Even the unused dough from the cut sheets of Parle-G cookies are repurposed, using a computerized scanning technology they devised, into a different product, a cracker sold as being "twice baked".
Shemaroo Entertainment is a multimedia conglomerate dominating the Indian airwaves and really drives home the reason why Mumbai is called the Hollywood of Bollywood. Starting out many years ago as a book rental library for almost a hundred years, Shemaroo now owns the largest digital networks in India with one of the most extensive and valuable catalogs of Bollywood films ever. Their most recent ventures include a streaming service targeted at the Indian diaspora around the globe and several products including a best-selling speaker which plays devotional Hindu music. We met with the head of their marketing department and discussed differences in consumer habits, media consumption, channels, and the steady dominance of television over streaming within the subcontinent itself.
Our next two days were spent in a place much different to Mumbai, Aurangabad, a more rural part of the country known for its many scenic and historic sites such as the UNESCO World Heritage sites of Ajanta and Ellora (carved from 200 BCE to 1000 CE) caves as well as the Daulatabad Fort, which we visited. To me, this was the highlight of the trip. Despite it being extremely hot, with temperatures staying at or above one-hundred degrees Fahrenheit, I did not mind it, as what we saw was awe-inspiring. The Ellora Caves in particular were stunning. Carved into the side of a cliff overlooking a stream running through a valley of scrublands, it is hard not to be bowled over by the sheer enormity and artistic craftsmanship of what we were seeing. Starting work in five hundred and fifty CE, more than two hundred years before, Buddhist, Jains, and Hindu monks worked painstakingly to carve more than one hundred cave temples.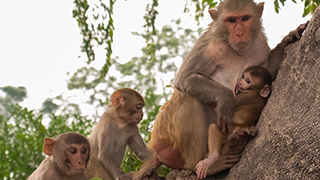 Surrounding animal and plant lives are very subtropical with some plants many centuries old making the miles long hiking very scenic and enchanting.
Our final days were spent in India's capital, New Delhi. In addition to interacting with our Indian peers at Birla Institute of Management Technology (BIMTECH) and Shaheed Sukhdev College of Business Studies, we also visited the Taj Mahal—a wonder to which no picture can do justice. The Taj itself is beautiful, made of a translucent Makrana marble only found in Rajasthan in Western India, it changes colors throughout the day, appearing pink in the morning and glowing an ethereal white at night under the moon. The whole building is inscribed with passages from the Quran and intricately inlaid with semiprecious stones. Despite appearances, there is not one completely plain block on the building. It is also surrounded by the beautiful gardens and red sandstone walls. I was more taken by it than I ever thought I would be.
Meeting our peers was an immensely enjoyable experience. We discussed our lives and the difference in education and job hunting primarily. Throughout the trip, the people of India were extremely kind, courteous, and curious about us, our country, and if we were enjoying our time in their homeland. We also toured Birla Institute of Management Technology and its BIMTECH incubator which is a program the school runs where it partners with entrepreneurs, providing them seed money, consultants, and a space to work in exchange for a small part of the company. Seton Hall University has signed a MoU of collaboration and cooperation with BIMTECH.
Overall, on behalf of my colleagues who went to India, I can say that we greatly appreciate the time we spent in India and felt that we have come away from it more worldly and knowledgeable individuals. We understand better overseas operations and market conditions in the country and got to see things and visit places I never thought I'd ever get the chance to. My colleagues who went to India, Divya Sarin, Muryam Usmani Spyridon Koutsis, Alvaro Puglia, and I still meet from time to time to have dinner and can say that the professor and his wife were excellent guides and chaperones; their knowledge and experience of India gave a perspective to the trip that I think would be hard to get otherwise. I highly recommend that those interested to take the Doing Business in India trip.
Categories: Arts and Culture, Business, Nation and World