Graduate
Master of Science (STEM M.S.B.A.)
Business Analytics (Online)
From health and science to retail and finance, big data is driving and changing every aspect of our world today — especially in business. Advanced technology now allows companies to gather and store massive amounts of data more easily than ever before. But businesses are all facing the same dilemma: how to harness that data once they have it.
All over the globe, companies are searching for leaders who can use data to solve problems strategically and make effective business decisions. Our MS in Business Analytics (STEM MSBA) prepares you to do exactly that. Offering equally solid foundations in both business processes and data analytics, our program develops managers and executives whose skills will be in high demand. Graduates are as comfortable communicating with managers as they are with quantitative analysts.
STEM Designated Program
By 2028 it is estimated that there will be more than a million jobs in the STEM field. In preparation, this STEM designated program will equip you to utilize technology, data and business analytics to make effective business decisions and solve complex business problems.
The STEM designation offers an additional benefit by allowing international students to apply to extend their 12-month optional practical training (OPT) by an additional 24 months.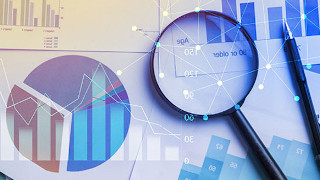 Annual Distinguished Lecture Series in Business Analytics
Featuring four industry leaders, the 2nd annual lecture series focused on leveraging analytics and associated applications to improve business impact and financial outcomes. The use of data-driven tools in the decision-making process and the impact of these on people and policymaking was also discussed.