Certificate
Leadership and Professional Development
Seton Hall University's Division of Continuing Education and Professional Studies is proud to offer two new certificate-bearing programs in collaboration with Seton Hall's Buccino Leadership Institute:
The Aspiring Professional Accelerator Program will provide ambitious professionals with advanced tools and strategies needed to excel in their field, advance their career, or pivot to a new position.
This unique, power-packed one-day program is intense, interactive and inspirational, and will help participants understand their emotional intelligence using the field's top assessments. Participants will learn to overcome those self-imposed limitations holding them back, level up virtual and in-person networking skills and branding, and master the resume and communication skills needed to take their career to the next level. This is not a basic skills course; it is designed for ambitious professionals who want more – more confidence, more opportunities and more tools to advance their career.
The Leadership and Professional Development 101 Certificate Program provides undergraduate or graduate students with proven techniques and skills to help them not only discover the best version of themselves, but to craft the ideal future professional they aim to be.
Over the course of four content-filled, in-person, hands-on sessions, students will build confidence, recognize strengths, understand what's been holding them back and how to overcome it, all while developing crucial professional skills – from crafting the perfect resume to perfecting networking and interviewing skills and more.
After delivering this program to over 400 undergraduate students to date, each participant not only recommended it to their peers but insisted how helpful it was to both their personal and professional development.
Spring 2022 Programs
Aspiring Professional Accelerator Program
Focused on the aspiring professional either starting their career, or for those looking to advance or make a pivot.
Date to be announced soon
Tuition: $399
Leadership and Professional Development 101 Certificate Program
Focused on undergraduate and graduate students who are seeking their ideal internship or aspiring to find their dream job following graduation, or for those who simply want to learn what it takes to become a professional.
Wednesday evenings, March 16, 23, 30 and April 6, 2022 – 7 to 9 p.m.
Tuition:& $399
Special Pricing:
Early bird registrants can save 10% by February 1 – use code "LPDEarlyBird".
Discounts are available for current Seton Hall Alumni – email CEPS@shu.edu for further details.
Leadership and Professional Development
In this certificate program, learn your strengths, define your goals, and accelerate your career.
Why Choose Seton Hall's Leadership and Professional Development 101 Certificate Program?
 

Proven Expertise: Content delivered directly from the Buccino Leadership Institute, ranked the #1 leadership development certificate program in the nation, as voted by HR.com five years in a row, and a trio of esteemed faculty from across the professional spectrum.

 

Personal, Interactive Learning: Receive hands-on, personalized training and critical feedback from instructors who are invested in your success, able to ascertain your strengths and weaknesses, ad care about your professional development.

 

Value: Receive strengths assessments and personalized feedback, invaluable career, networking and interviewing strategies, and confidence building techniques and skills.

 

Access to instructors: Build relationships with three professional educators who care about your success, your journey and your future.

 

Community: Benefit from a supportive group of fellow learners on a similar journey and build your network with a group of ambitious professionals who share the same passion for success.

 

Continuing Education Credits: Obtain certified continuing education and SHRM credits.
Attendees will: 
Discover their strengths using industry-leading professional leadership assessments such as the Eq-i 2.0 or StrengthsFinder 2.0 assessment;
Understand the self-imposed limitations holding them back and how to overcome them;
Learn how to shape their personal brand to maximize the professional reputation;
Learn how to craft a winning resume that will get past AI screeners and get them the interviews that others won't;
Learn and practice proven interviewing skills through workshops, lessons and exercises;
Learn and practice established in-person and virtual networking strategies that will get them noticed, make them respected, and produce the results they want;
Obtain certified continuing education and SHRM credits and
Receive a Certificate in Leadership and Professional Development from the Buccino Leadership Institute, the #1 leadership development certificate program in the nation as voted by HR.com five years in a row.
Faculty
Both programs were created by three highly motivated and engaging instructors, each with a unique professional background and educational skill set, who deliver content in a fun and relatable way: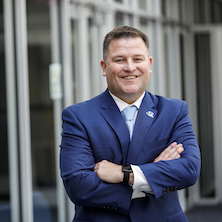 Bryan Price, Ph.D. – The current Executive Director of the Buccino Leadership Institute at Seton Hall and a retired Lieutenant Colonel in the U.S. Army with combat experience, Price also founded and serves as the CEO of Top Mental Game, a company which helps business leaders and athletes perform at their best when it matters the most. 
---
Michael G. Gordon, Esq. – A practicing attorney currently serving as Corporate Legal, Regulatory, and Securities Counsel for an industry-leading Fortune 500 technology company, Gordon also teaches as an Adjunct Professor of Business Law at Seton Hall's Stillman School of Business and was appointed a Bar Examiner for the State of New Jersey. Michael is a five-time New Jersey Super Lawyers' Rising Stars recipient, an Adjunct Professor of the Year nominee, and a proud graduate of Seton Hall Undergrad (2006) and Seton Hall Law (2009).  
---
Joe Testa, M.B.A., FPC – As a corporate resolution support specialist and digital/e-commerce product success driver for an industry leading Fortune 500 company, Testa is a proud Seton Hall alumnus (2012). He attained his MBA in 2020 and has served two years as Co-President of Seton Hall's Young Alumni Club and as a member of Seton Hall's Alumni Board of Directors. He has vast mentoring experience, serving countless young professionals and students, helping them craft actionable strategies to find professional success.
Request Information
Continuing Education and Professional Studies at Seton Hall University provides professionals with opportunities to continue their education, earn degrees, advance their careers, and enjoy personal enrichment. 
Contact Us
Continuing Education and Professional Studies
Program Director
(973) 761-9087