2011 Entrepreneur Hall of Fame Inductee
President
Interstate Electronics, Inc.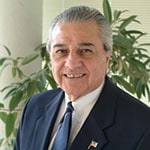 A Newark native, Victor V. Scudiery earned a degree in business administration from Seton Hall University in 1956 and served in the U.S. Army before moving to Monmouth County in 1968. He is the owner and operator of several businesses, including Interstate Electronics, Inc. (IEI). IEI opened its doors in 1968 and the company currently occupies 40,000 square feet of space at the Airport Plaza Shopping Center in Hazlet, which he also owns.
His experience in communications and media led him to produce books, albums and television shows seen across the United States and Europe. Two of his award-winning productions include "Face to Face with Jacki Walker" a weekly talk show that addressed issues pertinent to New Jersey and "The Murder of Maria Marshall." He also established and served as chairman of a non-profit radio station that transmitted from Airport Plaza.
Mr. Scudiery believes that successful business people should be involved in social issues. To that end, he is a generous benefactor and philanthropist and sits on the boards of many local civic organizations.
He is a former member of the Brookdale College Learning Center Advisory Board and is currently the chairman and trustee of the Bayshore Senior Health, Education and Recreation Center. He has been cited as an asset to the Bayshore community and was saluted for his hard work, generosity and compassion with the Humanitarian of the Year Award for his service and dedication during his tenure as chairman of the Bayshore Health Care Center Board of Trustees, and as a member of the Board of Directors for the Bayshore Community Hospital and Bayshore Community Health Services.
He has also held the position of chairman of the Monmouth County Democratic party since 1989.
Moreover Mr. Scudiery is the publisher of "The Papal Review" a pictorial essay of each Catholic Pope since Saint Peter. He produced and directed a commemorative album of Pope John Paul II, in addition to a series of children's educational albums and coloring books, and set the trend of exercising to music with the first series of "Dancercise" albums.
He currently resides in Middletown, N.J., and enjoys spending his leisure time with family and close friends especially his daughter Viki, a successful fashion model.