2007 Hall of Fame Honoree
Chairman
Meeker Sharkey and Associates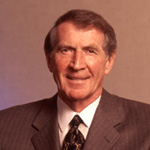 A 1954 graduate of Seton Hall University, Sharkey is currently the chairman of Meeker Sharkey and Associates. Prior to this, he was the chairman of Banc of America Corporate Insurance Agency, a subsidiary of Bank of America Corporation. While at Seton Hall, Sharkey was an outstanding varsity baseball player and upon graduation, he played professional baseball for two years with the Detroit Tigers. He later served two years in the United States Army and began his career in the insurance industry in 1958.
Sharkey currently serves as a member of the Board of Regents at Seton Hall and is chair of Ever Forward: The Seton Hall Sesquicentennial Campaign. In his role with the campaign, Sharkey, and his wife Ruth, have personally committed time and resources to ensuring that the campaign achieves its $150 million goal. Their $3.2 million gift to the campaign has advanced initiatives proposed by the deans of the Stillman School of Business, the College of Arts and Sciences, and the John C. Whitehead School of Diplomacy and International Relations. These initiatives include a professorship, an honors program, visiting diplomat program, the Seton Hall Sports Poll Conducted by The Sharkey Institute, endowed scholarships for Arts and Sciences undergraduates, and the Richie and Sue Regan Endowed Fund for Athletics.
Sharkey has also served on the St. Elizabeth's Hospital board for more than fifteen years. In 1986, he was awarded the Nicholas J. English Humanitarian Award for community service, and in 1994, he received the "Distinguished Alumnus of the Year" Award from the University's Alumni Association.
He and his wife have four grown children and several grandchildren.