Sunny Bathla '00/M.B.A. '15.
2015 Entrepreneur Hall of Fame Inductee
Founder, OSB Consulting
Vice President, Virtusa Corporation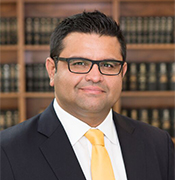 Sunny Bathla is the founder of OSB Consulting, a specialized consulting services firm that he sold to Virtusa Corporation in 2013. Virtusa is a global information technology (IT) services company providing IT consulting, technology and outsourcing services where Bathla currently serves as a vice president. He heads up the global business consulting and information technology firm's SAP (Systems, Applications and Processes) North America practice.
Bathla, who was raised in Millington, NJ, graduated from the Stillman School with a B.S. in finance in 2000. He then worked as a financial analyst for Deutsche Bank and later became a consultant at the Siegfried Group and Rothstein Kass & Company.
In 2003, Bathla returned to the Stillman School, enrolling in the M.B.A. program for accounting. In 2007, while still a student, he launched OSB Consulting in his home basement in Basking Ridge. As his business rapidly grew, he hired fellow Stillman M.B.A. students to work for OSB Consulting, several of whom still work with him today.
In 2012, Inc. magazine, a leading publication specializing in entrepreneurship, ranked OSB Consulting the 240th fastest growing small business in the United States. The firm, based in Warren, employed a staff of 75 and clients were Fortune 500 companies in the financial services and insurance industries. Bathla sold OSB Consulting to Virtusa to ensure the future growth of his staff and the business by taking advantage of Virtusa's global footprint.
His love for business began at the age of 13 while working alongside his father Om. He attributes his desire to become an entrepreneur to his father, an Indian immigrant who owns and operates restaurants in New Jersey. Bathla came up with the name for his company, OSB Consulting, by combining their initials.
Bathla is an active alumnus, serving on the Board of Advisors for the Center for Entrepreneurial Studies. He enjoys mentoring entrepreneurship students and recent graduates who are launching ventures. He is active in the Seton Hall community and has made a commitment to give back to Seton Hall by creating scholarships for Stillman students.
Bathla resides in Warren with his wife Isha and their two young sons, Jayden and Avi.