Shannon D.M. Morris '92/M.A. '94
2013 Entrepreneur Hall of Fame Inductee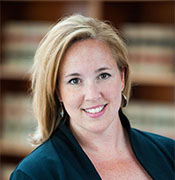 President
Sigma Group
Words such as vision, innovation, character and drive best exemplify Shannon Morris. She earned both a B.A. in communication and public relations and an M.A. in marketing and corporate communications from Seton Hall University. While an undergraduate at the Hall, she was captain of the swim team and a two time, Big East Academic All American. After graduating, she spent several years in corporate marketing at leading organizations such as Fuji Electric Corp. of America, Prudential and Home Box Office. She then transitioned to Sigma Group, an advertising agency in Oradell, New Jersey.
In 2012, after nine years as partner, she acquired Sigma. The year culminated with a 35 percent increase in revenue, the #1 ranking for Top Agencies by NJBiz and a ranking on Inc. Magazine's 5,000 fastest growing companies. With oversight on all critical performance of the agency, from client services and integrated strategic planning, to creative execution and day-to-day operations, Morris is truly an exemplary leader. Throughout her tenure she has earned numerous awards including a Stevie Award for best female executive, induction into New Jersey Advertising's Hall of Fame and NJBiz's top 50 Women in Business.
A mother of four, Morris has designed several initiatives supporting work/life balance at Sigma. These include flextime work arrangements, maternity leave to work transitional time programs and a host of other in-office wellness programs targeting stress relief, productivity and health. She prides herself on the more than 65 percent female-based employee ratio at Sigma and a 6 to 3 female/male ratio on her executive leadership team.
Morris is also passionate about community outreach and non-profit work, including her work with Answer to Cancer and the development of Sigma's Team Hercules and Team Gabby, which support a host of volunteer initiatives and fundraising programs, locally. She is an ongoing supporter of many other non-profit organizations including the Boys and Girls Club and is actively involved in a range of fundraising and public relations initiatives for a variety of Bergen County-based groups. She also contributes her time lecturing, judging and mentoring on business and leadership to several higher education institutions.