2010 Entrepreneur Hall of Fame Inductee
Financial Consultant, AXA Advisors, LLC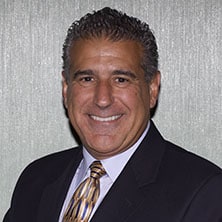 For more than 30 years, Salvatore "Sal" Cocco has immersed himself in the financial industry. He joined the audit staff of Coopers & Lybrand (now PricewaterhouseCoopers) in 1977, after interning there during his senior year at Seton Hall University. He was later promoted to director of administration, overseeing finance, administration, human resources and recruiting for the New Jersey office. Mr. Cocco's entrepreneurial spirit took flight in 1991, when he opened his own accounting and consulting practice.
For the last 15 years, he has been a financial consultant with AXA Advisors, LLC, practicing as a generalist in all disciplines of financial planning services, including brokerage and managed accounts, individual and corporate retirement planning, college funding, and insurance needs analysis. He manages his own office and is credentialed as a Chartered Life Underwriter. Throughout the years, AXA has recognized him as a member of its Hall of Fame and Order of Excalibur and honored him with the Hallmark III, Circle of Excellence and Bronze Eagle awards.
While at AXA, he also joined other professionals in his community to open Franklin Bank in his hometown of Nutley, NJ. The Board of Directors raised the necessary capital to fund the bank by reaching out to large and small investors they felt would later become bank customers. Mr. Cocco served as Franklin Bank's chairman, until the bank was acquired in 2005. He remains connected to banking as a member of the Pascack Community Bank Board of Directors.
Mr. Cocco's passion for giving back to his community dates back to when he was 26 years old and joined the board of 1st Cerebral Palsy Center of New Jersey, serving as president. He remains active with the charity and is currently treasurer. He is also co-founder and vice president of the Mike Geltrude Foundation, which educates youth and adults on the effects of melanoma. In addition, he presides on boards for the Nutley Parkside Apartments senior housing complex, the Nutley High School Career Advisory Board, and the Economic Development Committee in Nutley.