Michael Lucciola '83/ M. B. A '86
2011 Entrepreneur Hall of Fame Inductee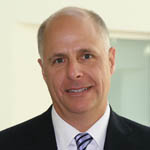 Chief Executive Officer
Firefly Group
Michael Lucciola is CEO of the Firefly Group and member of the Seton Hall University Board of Regents. He received his political science degree from the College of Arts and Sciences in 1983 and an M.B.A. from the Stillman School of Business in 1986.
Mr. Lucciola currently serves as an investor and advisor to several growth stage companies. He is the former president of eB Networks, an IT services company that designed and implemented network infrastructure for Fortune 1000 companies. eB Networks was headquartered in Parsippany, New Jersey, and had 12 offices nationwide. Mr. Lucciola led a successful restructuring of the business and positioned the company to be acquired by Inrange Technologies in 2001.
In 1986, while a student at the Stillman School, he founded Integrated Computer Management (ICM), a systems integration company. Over their 13-year history, ICM won numerous awards for its innovative application of technology, including the Microsoft Global Best Business Solution of the Year award in 1997. ICM was acquired by Computer Horizons Corporation in 1999.
Prior to serving as a Seton Hall University Regent, Mr. Lucciola was a member of both the Chancellor's Advisory Council and the Seton World Wide Board. He recently participated in the University's World Leaders Forum to confer the honorary degree on the UN Secretary-General, Ban Ki Moon.
Mr. Lucciola currently serves as a board member of the American Pet Insurance Company and the Garden Academy (an innovative school for children with Autism). He is the past president of the Board of Trustees of the Somerset Hills Learning Institute and past chairman of the NJ Chapter of the Young Presidents' Organization.
He and his wife, Helen, have five children, Matthew, Michael, Natalie, John, Christopher, and reside in Chatham.